Following the latest call for information on local conferences, we've received two reviews :
GATEWAY TO REASON—St. Louis, Missouri
With the bills paid and the videos starting to be posted, Gateway to Reason 2015 is officially complete. First of all, I have a great deal of thanks to all the wonderful speakers that gave their time to kick off this inaugural event in St. Louis. With that said, my hat is off to the wonderful VIP supporters that were the ones that really made the event happen: without them, nothing could have moved forward and they have every right to be proud of their contribution. Likewise, the conference attendees were vital to make sure all the details of the event went smoothly with their tickets and to make sure we have a good turn out and even make new friends. Last but far from least are the fine people from EvolveFISH, Bedtime Bible Stories—Explicit! and Foundation Beyond Belief who stood with me with their commitment to be a "Gateway to Reason" in St. Louis.
There are some highlights of which I am particularly proud. First of all, we had our own "mini podcast" convention with the number of great podcast groups that came: another value-added part of attending a conference. From the feedback I received, the vendors had a very positive response to their sales and causes, with some vendors even running out of items to sell, which is always good.
I would like to personally thank so many of you here but I am afraid to leave out someone vital, so I want you all to know how much I really couldn't do this without you. I know all of you are supportive of the cause and it was like being in a city of like-minded people for three days. We had over 400 people in attendance, which is something to be proud of, given that the auditorium was supposed to seat 350 people! We are still planning to host the conference at Washington University in St. Louis.
We are already planning for next year's conference, and we should have the venue chosen for next year's event sometime next week. We are planning to have a larger venue—a 650 seat auditorium—to be able to keep the ticket prices lower. I'm also excited to announce some of the people who have committed to speaking next year: David Silverman, Dr. Darrel Ray, Keith Lowell Jensen, Steve Hill, UnitedCoR's Education Officer and National Coordinator, David McAfee, Nathan Phelps, Stephanie Guttormson, Andrea Desky, D. J. Grothe, The Flying Spaghetti Monster, Heina Dadabhoy, William Poire, James Croft, Heather Henderson, Ryan Bell and Mandisa Thomas, with more to come. As an added bonus from this year's conference, we will have a "coffee table" type book so that people have pictures with which to remember the conference. Details will be out on the Gateway to Reason website, as well as our Facebook page, which is where we are accepting donations to help make the next conference bigger and better.
Thanks, UnitedCoR, for all you did with the media to make reason a reality in St. Louis!!"
Thomas True
Coordinator—Greater St. Louis CoR
HEARTLAND HUMANIST CONFERENCE—Omaha, Nebraska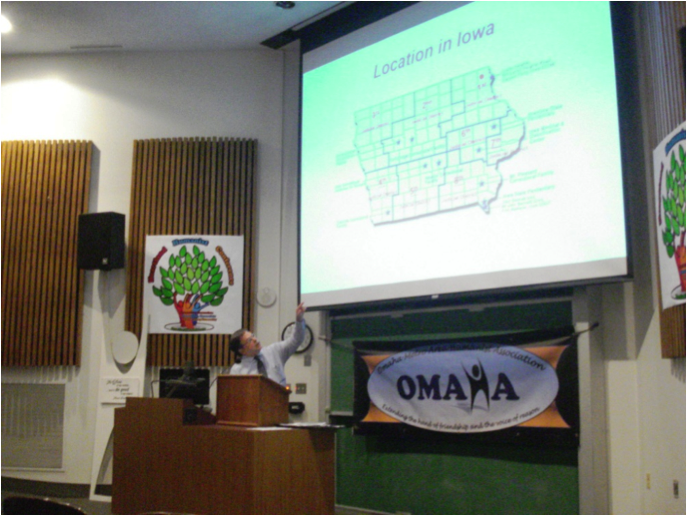 Dr. Paul Knupp, co-founder of the Humanists of Iowa, presenting "Introducing Humanism into the Penal System"
I want to express my gratitude to William Newman, Mark Siepker and Tom Gray—Coordinator of Omaha CoR, for their invitation to come and speak at this year's Heartland Humanist Conference. Having a well-attended local conference, complete with a fabulous "3-B" picnic (barbeque, bratwurst and beans) and a special visit from the Flying Spaghetti Monster made an event that was enjoyed by people of all ages, including bringing folks from as far away as Central Iowa CoR and Eastern Iowa CoR.
The conference focused on Humanist values in action, and most of the speakers' presentations addressed topics such as working with other groups of sincerely-held beliefs; sexual health education and personal life choices; celebrants and chaplains who are the public faces of non-theistic ethics; and working in institutional settings such as hospitals/hospices, prisons and the military. The variety of people's work and experiences truly addressed the "values in human welfare shaped by human circumstances, interests, and concerns and extended to the global ecosystem and beyond," as is written in the Humanist Manifesto III. It was a pleasure for UnitedCoR to work with your conference and to help it receive positive media attention.
UnitedCoR's Executive Director
Executive Director—United Coalition of Reason