by Dr. Linda Elder
Educational Psychologist and Senior Fellow–Foundation for Critical Thinking
I want to begin by thanking the community for your overwhelming response to last week's offer; it was so overwhelming, in fact, that the 30 Days book is temporarily out of stock. We apologize for the wait, and will have new copies in soon. In the meantime, we have a new offer this week–see below!
We are pleased to open registration for the 37th Annual International Conference on Critical Thinking to be held in Northern California: July 31 – August 4th, 2017. This year we have focal sessions for educators, as well as professions from all fields–and indeed anyone interested in developing as fairminded critical persons.
Let it be known that ours is the world's longest-running conference on critical thinking in the world, organized by scholars uniquely focused on the advancement of freedom of thought and freedom of speech in all classrooms and in all human societies.
We also hereby announce our Call for Proposals, and invite you to propose a one-hour Concurrent Session or Roundtable Discussion for the 37th Conference; see our website for submission procedures. We count on your participation, so don't be shy! Show your colleagues what you are doing to foster critical thinking – and share your struggles.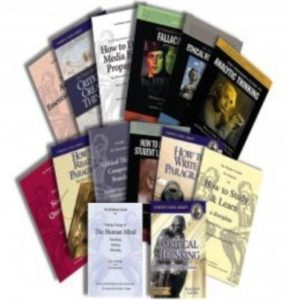 Finally, those who order the College/University Faculty Thinker's Guide Set between now and December 21 will receive a free copy of The Aspiring Thinker's Guide to Critical Thinking. This popular guide – replete with color images and useful diagrams – summarizes key conceptual tools in the Paul-Elder framework for critical thinking. It is one of our most popular student guides and demystifies core principles in critical thinking. It makes an excellent gift for anyone you know who is interested in self-development.
I leave you with a bit of wisdom written by my longtime friend and colleague, and Senior Fellow at the Foundation for Critical Thinking, Dr. Gerald Nosich. This excerpt comes from the fourth edition (2012) of his book, Learning to Think Things Through: A Guide to Critical Thinking Across the Curriculum.
There are no surefire [underline added for emphasis] rules of reasoning. There are no rules so foolproof that they guarantee your reasoning will be successful. There are guidelines; there are even "rules" sometimes, but these always need to be followed thoughtfully. You need to apply them with sensitivity to context, goals, and a whole host of realities. For thinking to be critical thinking, it must be reasonable thinking.
…We must use our reasoning to evaluate rules, rather than vice versa. The only way we can decide whether to follow certain rules is if we use our best reasoning to determine that those rules are reasonable, that they lead to reasonable results when followed. Critical thinking is "self-correcting" at least partly because it is the court of last resort. There is no level of greater certainty beneath it that we can use to evaluate our reasoning.
These passages warn of the false comfort implicit in pseudo-conceptions of critical thinking – oversimplified, procedural, "step-by-step," easy and quick, no work required. Such approaches are easily marketed and widely taught (often by consultants chasing after the easy dollar).
A substantive framework for critical thinking is not neat and tidy. It is not atomistic or compartmentalized. Rather it is a complex web of understandings, with each conceptual strand of the web intertwined with the others. It is challenging; its use can be "messy." Yet through confidence in reason, the mind can make sense of the world, and of the principles and intellectual tools vital to this process. It sets us on our way toward the cultivation of our own minds.
Thank you for your very important contributions to advancing confidence in reason, within your domain of influence.