There you were, driving or walking along, and you saw this billboard and wondered what it was all about.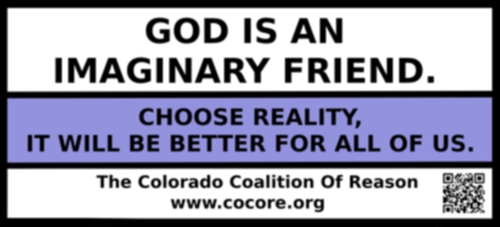 Welcome to our website. We are atheists and believe in separation of church and state. We don't believe in gods or devils or heaven or hell. However, we also believe that people have the right to practice their faith.
One of the reasons we put the billboard up is that we are concerned when religious people feel they have not only the right, but the obligation, to force their religious views on others. Examples are proselytizing in the military, educational systems, and government. Another example is the attacks by religious people on gays, lesbians, and abortion providers.
The sign was created by the Boulder Atheists. We've been around since 2001 and do what we can to support separation of church and state. The Colorado Coalition Of Reason (COCORE) is an umbrella group consisting of 17 secular groups and Boulder Atheists is one of those groups.
If you agree with the sentiments of the sign and live in Colorado, there is probably a secular organization near you. You can find them by going to the Groups page on this website. You will be surprised how much we do, both as activists and in the social arena. Most of the COCORE groups have monthly meetings, book discussions, lunches, and social activities. The Atheist Alliance of America will be having their national convention in Denver in 2012.
If you disagree with the sentiments of the sign, please don't be offended. We are more interested in opening a dialogue than upsetting you. We don't ask you to stop believing in your version of a super-natural being. We do ask that you consider not forcing your religious views on others.