About Us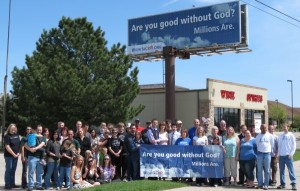 The Wichita Coalition of Reason is made up of atheist, skeptic, and other freethought groups working together in the Wichita area. Our twin goals are to foster a sense of community among the like minded, and to raise public awareness about issues that are important to our secular community.
So, if you are of a secular mind, you aren't alone. Thousands of your friends and neighbors think and feel as you do. This website will help you find events to attend, activities in which to participate, and people with whom to socialize. After all, like everyone else, we benefit from a supportive community for friendship, learning, social service, and activism.
Secular people make up a significant portion of the population, outnumbering most religious and other minorities combined. The American Religious Identification Surveyreports that 12 percent of Americans are nontheistic. This places us as one of the largest minorities in America. Yet we haven't enjoyed the benefits of our numbers because we haven't been well organized. The Wichita Coalition of Reason is here to change that.
To the traditional religious community we want to say that, although we nontheists are without a belief in the supernatural, we do share the compassionate human values that most people embrace. As hard working, ethical citizens, we care deeply about our families, our communities, our state, our nation, and the world.
Groups
The Wichita Coalition of Reason is made up of three core secular organizations in Wichita. We also find much common cause with some other local groups – those listed among "More Local Groups We Like" below.
Core Organizations
Air Capital Skeptics is a group of critical thinkers who get together to talk, eat, drink, and promote critical thinking skills. Myths, legends, and pseudoscience pose an increasing threat to our modern society. By promoting the use of the scientific method as the way to examine the world around us rather than relying on superstition we can ensure that we continue to have a bright future. For our adult members we host Skeptics in the Pub events where we can eat, drink, and be skeptical. For our younger members (and adults!) we host Skeptics in the Park where we can also eat, drink, and perform the kind of science experiments that you aren't allowed to do indoors. Occasionally we may host special events and presentations.

Wichita Atheists isn't a religion. It's a close, personal relationship with people you can actually meet and talk with. We're a social group of atheists, and all non-theists are welcome, whether you choose to use the "atheist" label or not. We get together for good conversation and good food on the third Tuesday and first Sunday of each month, and we also have a monthly book club, and a monthly movie night. At our events everyone is an equal, and there is no particular agenda, so you'll get to chat about whatever comes to mind. Conversation often revolves around our experiences living as atheists in a predominately religious culture. Our meetup is also a good place to find out about secular activism opportunities, since some members are involved in such activities, and share them with the group.

A community of students dedicated to evaluating beliefs of all kinds. Promoting critical thought, the value of evidence, and logical argument are the things we're into.
More Local Groups We Like
284