About Us

Pages
Groups
Siouxland Freethinkers
Sioux Falls, SD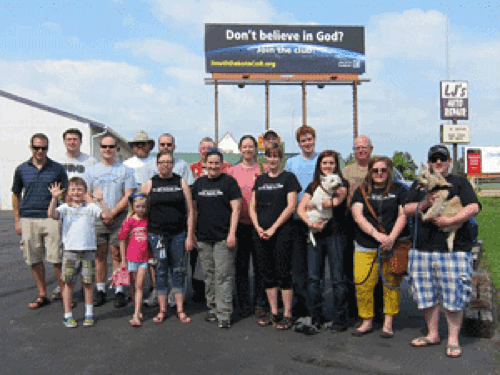 Siouxland Freethinkers is a community of atheists, agnostics, humanists, and skeptics based in Sioux Falls, SD. We encourage and support critical thinking skills, science based methods of inquiry, unfettered by supernatural beliefs or dogma. We also support our secular form of government as a necessary condition for the interdependent rights of freedom of religion and freedom from religion. As a Volunteers Beyond Belief team, we spend time doing philanthropic events and giving back to our community. We also conduct a variety of formal meetings, outreach, and social gatherings to foster relationships with like-minded people.
Black Hills Freethinkers
Rapid City, SD
The Black Hills Freethinkers are a not-for-profit group located beneath Mount Rushmore, the Shrine of Democracy, in Rapid City, SD. We seek to provide a community for non-theists, promote education and critical thought in the local area, and provide opportunities for people to participate in giving back to the community and protecting the wall of separation and our secular Constitution locally and nationally.

Brookings Freethinkers
Brookings, SD
The Brookings Freethinkers are a community group based in Brookings, SD. Our goals include to provide a community for freethinkers of all varieties; to advocate for the separation of church and state and a secular form of government; to give back to our community by participating in philanthropic activities; and to promote education, critical thought, and scientific inquiry.
South Dakota School of Mines & Technology Secular Student Alliance
Rapid City, SD
The SDSM&T Secular Student Alliance is an all inclusive student group that allows for open discussion of religion and its impacts on the world. Located in Rapid City, SD, our main activity is a weekly meeting in which we have discussions about topics including atheism, secularism, religion, and political ideas impacted by religion.
Black Hills State University Secular Student Alliance
Spearfish, SD
The Secular Student Alliance at Black Hills State University is located in Spearfish, SD. It is a group designed to provide a venue for atheists, agnostics, humanists and other non-religious indiviuals to discuss ideas, thoughts, and concerns about a wide variety of topics. These topics include religion, politics, philosophy, morality, and ontology.

University of South Dakota Secular Student Alliance
Vermillion, SD
The Secular Student Alliance at the University of South Dakota in Vermillion, SD works to unite secular students across campus to provide support and a vehicle for educating others about free thought.
Aberdeen Atheists
Aberdeen, SD
A local group for Atheists, Agnostics, Skeptics, Free Thought supporters, Humanists, and anyone else that doesn't enjoy being tied down by the chains of ignorance.

Sioux Falls Scientists
Sioux Falls, SD
Sioux Falls Scientists is a group made up of people who are interested in and love science as well as scientists themselves. Located in Sioux Falls, SD, the Sioux Falls Scientists have regular meetings and social gatherings where people of free thought, open minds and reason meet and share ideas, about what they have learned and thoughts concerning the latest scientific discoveries. It is closely associated with SiouxFallsZoologists.com, which is for animal lovers and focuses its diverse articles on animals and animal intelligence.
The SiouxFallsScientists.com website charts global warming and evolution data. It contains many interesting courses, books, documentaries, and articles describing how science works as well as news on the latest discoveries.
Sioux Falls Atheists
Sioux Falls, SD
Sioux Falls Atheists is made up of open-minded non-believers such as Atheists, Agnostics, and Humanists, as well as other open-minded persons of non-traditional beliefs such as Buddhism and Wicca. Located in Sioux Falls, SD, the Sioux Falls Atheists meet regularly for informal gatherings to share ideas, and support each other. It is also closely associated with SiouxFallsFreeThinkers.com, who welcome anyone of open mind to discuss issues such as  medical marijuana, beating death, psychic phenomena, and uncensored American history.
Check out the SiouxFallsAtheists.com website for articles on atheism and religious statistics, evolution charts, courses, books, documentaries, and many news articles related to Atheism and Religion.