Our Pages
About Us
We are an Amazon Affiliate. Buy anything through this link to Amazon, and we earn a percentage of the sale. Bookmark this link to use for future shopping. THANK YOU… and always, shine the light of reason!
---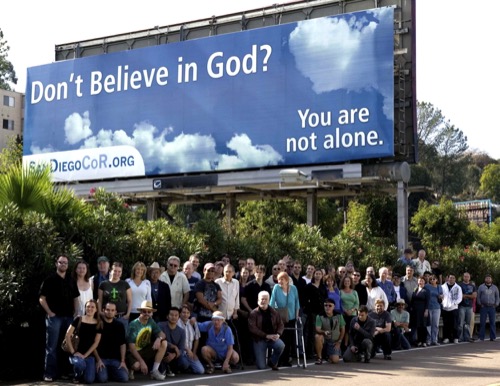 Groups
Americans United is a nonpartisan educational organization dedicated to preserving the constitutional principle of church-state separation. The primary mission of the San Diego Chapter is to provide a grassroots presence for the education and advocacy work of the national organization and to actively defend religious liberty in the local community.
The Atheist Coalition of San Diego was formed in 1991 and is a not for profit group which holds monthly meetings and other events.  The primary objectives and purposes are: 1) To promote separation of government and religions, which means to educate the public about the value of secular government, alert the community to government / religion separation violations, and work in all lawful ways to ensure separation of governments and religions. 2) To promote atheism, which means to educate and inform the public about atheism, presenting it as a worth-while, life affirming, and wholesome point of view, protect the civil and constitutional rights of atheists, clarify and explain atheist ideas for atheists and non-atheists, and develop opportunities for atheists to learn more about each other. 3) To coordinate activities with other groups to achieve common goals and objectives, in affiliations which do not compromise the autonomy of the Atheist Coalition.
We are a group of intelligent, fun atheists, agnostics, scientific skeptics, secular humanists, and freethinkers from San Diego County.  What sets us apart is that we do not consider ourselves "a privately held social club".  There is something for everyone here and we invite your input!  Get involved!  We have lots of fun social events, as well as some educational, and political-type/activist events.  Your participation is what makes us all successful whether you organize events or just show up! Come join like-minded secular folks for a beer, hike, lecture or whatever suits your fancy.  We hope to see you soon!
Formerly known as the New Atheists of East County, this is a social group for atheists that live and play in East County.   Atheists, humanists, agnostics and all freethinkers are welcome.  Our goal is to provide a social outlet for freethinkers living east of Route 15 including but not limited to El Cajon, La Mesa, Lemon Grove, Santee, Lakeside, Jamul, Spring Valley, and Alpine. Our events comprise all facets of social connection and are membership driven.  The only limitations are our own creativity. In this conservative part of San Diego it is often difficult to find like-minded people.  So bring your positive energy and make the East County Heathens part of your social life.  We look forward to meeting you.
While encouraging the advancement of Humanist philosophy and principles, we like to stretch your minds and your smiles! We are dedicated to providing interesting educational and social events for adults and families that will promote critical thinking, the pursuit of justice, personal acts of compassion, and community service. Our Humanist Chaplain is available to assist with celebrations and memorials. Like us on facebook, follow our tweets, and learn more about HFSD and humanism at our website.
Kahal Am is a compelling option for modern Jewish identity in the San Diego Area. Humanistic Jews understand Judaism as the human-centered history, culture, civilization, ethical values, and shared experiences of the Jewish people. We believe that individuals shape their own lives independent of a supernatural authority. You may recognize that our humanistic views of Jewish culture, traditions, and observances correspond with the way in which you would like to cherish your Judaism. Our warm, caring community welcomes anyone who identifies with Judaism, including intercultural families. We hope our website will give you an understanding of Humanistic Judaism and we encourage you to visit our congregation. Facebook Twitter
We are the San Diego chapter of the American Humanist Association's LGBTQ Humanist Council. We advocate full civil and social equality for LGBTQ persons, promote the Humanist Philosophy, and offer a welcoming community for LGBTQ persons, our allies, and everyone interested.
The primary goal of San Diego MAAF is building a community for atheists, humanists and freethinkers serving in the San Diego area. By establishing this group, we aim to support each member whether at home or deployed around the world. All Active Duty military and Veterans of all armed services are welcome to join.
We are a group of free-thinking families looking to build a community free from religion and supernaturalism. We welcome all labels of free-thought – Atheists, Agnostics, Humanists, Skeptics, Brights, etc. – who share the common goal of teaching our children to embrace the scientific world view as a way of understanding the universe. Parenting without religious dogma is an ongoing challenge. How do we prepare our children to cope with religiously-based social conventions that surround us, from the assumption that "God bless you" is the required response to a sneeze, to the invocation of a deity in the Pledge of Allegiance, to negative assumptions about secular living that are routinely presented in the media? We are interested in creating a community and building strong friendships while at the same time giving back to the communities in which we live via volunteering and community activities. We invite those families interested in gathering regularly for picnics, hiking, camping, park play-dates, volunteer work, parents' nights out, Moms' nights out, Dads' nights out, and any other events that we all create together. We can share information about secular parenting challenges, while at the same time discussing lighter topics like the latest movie or the finer points of an Australian red wine.
Founded in 1996, SD Skeptic Society (formerly SDARI, "San Diego Association for Rational Inquiry) serves the greater San Diego region by advocating critical thinking in our over-hyped, data deficient world. Join us for monthly discussion and lecture groups on the 4th Sunday and our monthly pub nights!
The San Diego New Atheists and Agnostics is a social organization focused on promoting positive atheism by providing a fun-loving and supportive community to inspire independent and critical thought, and to encourage a healthy curiosity about the world around us. We are an eclectic group that enjoys challenging the mind with scientific learning and hosting events that spark the imagination. We're a socially and environmentally conscious organization that takes pride in our community and our planet. We host a diverse set of activities that include: hiking and museum trips as well as social gatherings such as barbeques, volleyball and the highly anticipated board game night. Join the San Diego New Atheists and enjoy the stimulating conversations and company of hundreds of others in forums where you can express yourself and be yourself in an environment where reason reigns!
Who are we? We are a group of individuals who share a naturalistic worldview, free of supernatural and mystical elements, who meet to discuss our views in a friendly and supportive environment. Membership and participation is voluntary; we do not collect dues, or require anything other than respectful fellowship at our gatherings. We meet for dinner at 7:00 p.m. on the second Monday of each month at O'Sullivan's Irish Pub & Restaurant, 640 Grand Avenue, in Carlsbad. We enjoy a meal or a drink while we discuss humanism, current events, ethics, the media, and other topics that affect our lives and goals. Meetup 
It appears that the SDSU group is now inactive. If you would like to start a group at SDSU, please contact the Secular Student Alliance. You can also contact SDCoR for assistance. We'd be happy to help a new group get organized.
We are liberal secular humanists who would like to find a community of like-minded families interested in building strong friendships. We invite you to join us regardless of the label you choose – Agnostic, Bright, Atheist – or no label at all. We simply want to build a community based on principles free from religion and supernaturalism.
The Secular Student Alliance at San Diego State University strives to promote and practice the rational and scientific examination of the universe and our place in it, and provide an open community for atheists, agnostics, humanists, skeptics, naturalists and other freethinkers, and anyone else with the desire to learn more about secular thought and values. Facebook and SSA@SDSU Website
The purpose of the Secular Student Alliance at UCSD (formerly known as Rational Thought at UCSD) shall be to: 1) create a community for the various secular groups on campus, including, but not limited to Atheists, Agnostics, Humanists, or those who follow other skeptical belief systems, 2) promote and practice the open, rational, and scientific examination of the universe and our place in it, 3) promote ethics and morality based on rational and humanistic ideals and values, 4) promote skeptical inquiry, 5) organize activities, such as forums for discussion, guest speakers, and debates that educate UCSD and the surrounding community, 6) improve the public face of freethinkers throughout community service and other humanitarian endeavors, and 7) advocate for the Constitutional separation between church and state.
What should you expect from a Sunday Assembly event? Just by being with us you should be energized, vitalized, restored, repaired, refreshed and recharged. No matter what the subject of the Assembly, it will solace worries, provoke kindness and inject a touch of transcendence into the everyday. But life can be tough… It is. Sometimes bad things happen to good people, we have moments of weakness or life just isn't fair. We want The Sunday Assembly to be a house of love and compassion, where, no matter what your situation, you are welcomed, accepted and loved. Most of all, have fun, be nice and join in.Live better. Help often. Wonder more.
---
Friends of the San Diego CoR
---

---
Buy anything through this link to Amazon, and SDCoR earns up to 7%.  Help us create a more rational world by supporting the local secular community!
// <a target='_blank' href="http://ws.amazon.com/widgets/q?ServiceVersion=20070822&amp;MarketPlace=US&amp;ID=V20070822%2FUS%2Fsandiecoaof0c-20%2F8002%2F14549b0f-9ad5-4529-8540-39d7a57c4047&amp;Operation=NoScript">Amazon.com Widgets</a>