About Us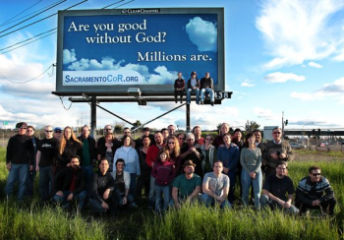 The Sacramento Area Coalition of Reason is made up of numerous groups that provide community for Sacramento atheists, humanists, skeptics and non-theists. We're proud to help secular people find groups and events so that they can meet like-minded individuals throughout the Sacramento region. We invite you to learn more about these groups and attend their events.
If you would like to contact us about upcoming events, speaking opportunities, public relations, or anything else, please send an email to [email protected]. Learn more.
Pages
Greater Sacramento Secular Organizations
The Sacramento CoR is made up of the following Sacramento secular groups:
Agnostic and Atheist Student Association (at UC Davis)
The Agnostic and Atheist Student Association, or AgASA is a campus organization with the purpose of uniting the many agnostics, secularists, skeptics, and atheists on campus and providing an opportunity to socialize with like-minded individuals, while questioning religious and theistic beliefs. The club is predominantly made up of people who identify as materialists/naturalists/physicalists (people who do not believe in any form of the supernatural) and non-theists who believe in some things that are supernatural. However, everyone is welcome to the general meetings and to partake in the discussions.
Atheists and Other Freethinkers (AOF)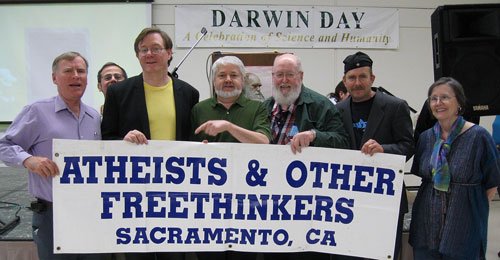 The purpose of the association, Atheists and Other Freethinkers, is to promote the civic understanding of atheism and the acceptance of atheists in our community. Through educational programs, projects, and publications, AOF will extend secular perspectives, including the separation of religion and government and the right to think and speak freely on these perspectives.
AOF meetings are open to the public and are generally held on the second Sunday of the month, from 1:30-4:00 p.m. at the Sierra 2 Community Center, Room 10, 2791 24th Street, Sacramento.
Black Humanists and Non-Believers of Sacramento (BHNBS)
The Black Humanists and Non-Believers of Sacramento is an outreach and
educational community group for African American atheists, humanists,
non-believers, skeptics, agnostics and for those who are questioning their
religious beliefs and are seeking information on atheism/humanism/etc. in a
supportive and judgment free environment. We hold educational forums and
socials for the Sacramento secular community.
BHNBS on
Facebook

BHNBS on Meetup

BHNBS Homepage
Brights Action Sacramento
A bright is a person who has a naturalistic worldview free of supernatural and mystical elements. The ethics and actions of a bright are based on a naturalistic worldview. If your worldview is naturalistic, you are by definition a bright! Meet other Brights, have some fun, and at the same time achieve something worthwhile! Besides enjoying the camaraderie, we will gather to put some of our ideas into motion – try to make some changes in our locale (e.g., in schools, libraries, and other civic institutions). The hub of the international internet constituency of Brights is in Sacramento. So, because of the locale, we have an opportunity to also work in sync with Brights Central to develop models for other groups. Brights Action Sacramento welcomes all who have a naturalistic worldview and subscribe to the principles put forth in The Brights' Net website.
First Atheist Church of True Science (FACTS)
FACTS is Sacramento's (and maybe California's) only Atheist church. We meet on the Monday nearest the new moon each month, so that we can peer farthest in distance and time into the night sky. We have an Ermnal (ask us when you arrive) of songs, a Moment of Science, a Sign of the Brain, a Freethink Drink and (hopefully) a grand time as we skeptically join together. Our goal is to spread "godless goodness," with charitable works to help those in the Sacramento secular and atheist community. New members are always welcome.
Greater Sacramento Chapter of Freedom From Religion Foundation (Sac FFRF)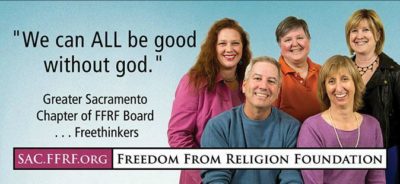 The greatest danger to reason, freedom and civil rights come when religion enters into the laws of a society. Freedom From Religion Foundation (FFRF), a national organization, is one of our most prolific and effective groups monitoring and pursuing such infractions of separation of church and state. Concentrating on local cases, which are more likely to be a good use of resources, rests in the hands of those local citizens who take the time to notice when these infractions occur.
The Greater Sacramento Chapter of FFRF takes such monitoring seriously. Our members receive regular support in their constant vigilance to make sure no religion, Christian or otherwise, is allowed to take hold in our local governments, from school board to city council, even watching the parks and recreation departments. This local Chapter intends to be a reporting chain, letting FFRF know when action might be necessary. In addition, we strive to advance a better understanding of atheists in our community so these infractions are less likely to gain public traction in the first place.
Everyone is encouraged to join, whether you prefer to help monitor your local governments or simply show your support.
Humanist Association of the Greater Sacramento Area (HAGSA)
HAGSA is a Chapter of the American Humanist Association. Its purpose is to promote ethical, naturalistic, democratic Humanism among our members and in our community. It does this by means of monthly meetings (third Sunday of month) except in July and August, and its sponsorship of special events such as Darwin Day and Freethought Day.
Reason Center

Reason Center is a 501(c)(3) nonprofit that was formed to provide a place
to:
Support a social and intellectual community for freethinkers.
Contribute to society through education and community service.
Advance the civic understanding and acceptance of freethinkers.
Uphold the separation of religion and government.
Please subscribe
to our enewsletter and find out more at ReasonCenter.org.
Sac City Freethinkers (at Sacramento City College)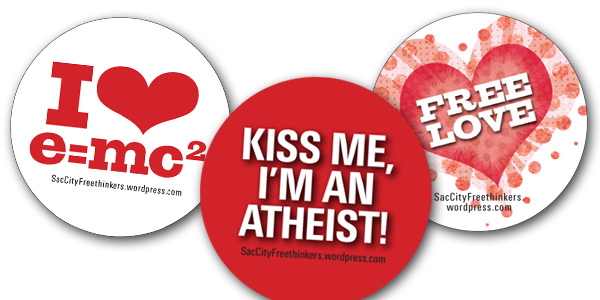 Uniting all Sacramento City College freethinkers (atheists, agnostics, secularists, humanists, and other skeptics) and providing an opportunity to socialize with like-minded individuals, question religious and theistic beliefs, and promote free thought through campus and community events.
Sacramento Freethinkers, Atheists, and Nonbelievers (Sac FAN)
Meet other freethinkers, atheists and nonbelievers in the  Sacramento secular community. We strive to build a fun and meaningful community with one another through: monthly meetings, potlucks, guest speakers, book discussions, film screenings, community outreach and other social activities.
Sacramento Area Skeptics (SAS)
The Sacramento Area Skeptics were created in August 2008 in an effort to promote science, critical thinking, and skepticism in the Sacramento Area as well as organize a way for skeptics in the greater Sacramento area to meet one another. The SAS initially started on meetup.com and has grown since then. In addition to promoting science and skepticism on our websites, we organize lectures, and host a Drinking Skeptically event in Sacramento on the third Friday of every month.
SAS Homepage
SAS on Meetup
SAS on Twitter
The Sacramento Organization for Rational Thinking (SORT)
While SORT is not an atheist group we support the Coalition of Reason in encouraging rational and critical thinking.
The core of SORT activities is our discussion group. The art of intelligent conversation is not dead. We at SORT believe that rational conversation—the meeting of minds, the free exchange of ideas, and the provocative stimulation of critical questions – is one of the most civilized and enlightening of all human activities.
SORT Meetings take place 7:30 – 9:30 pm the last Tuesday of the Month at the La Sierra Community Center 5325 Engle Road, Carmichael. CA Room 800.
Secular Student Alliance (at CSU Sacramento)
The Secular Student Alliance (SSA) of Sacramento State University is a student-run group made up of atheists, agnostics, skeptics, and other Freethinkers organized to provide community, dialogue and events to secular students.
Secular Student Alliance (at Sierra College)
The Secular Student Alliance (SSA) of Sierra College is a student-run group made up of atheists, agnostics, skeptics, and other Freethinkers organized to provide community, dialogue and events to students in the Sacramento secular community.
Stockton-Area Atheists and Freethinkers (SAAF)
The Stockton-Area Atheists and Freethinkers is a social and philanthropic group with social, monthly meetings, and community-improvement events throughout the year. Our members span from Galt to Modesto, and events have included park clean-ups, food drives, movie nights, and pizza socials. Join us for the fun, to meet like-minded others, or better our neighborhood. Visit our Meet-Up page for details.
Sunday Assembly Sacramento (SA)
The Sunday Assembly is a secular congregation that celebrates life. Our
monthly events are generally 75 minutes filled with music (80s and 90s pop hits), inspirational talks, poetry and art, donuts and coffee, and more.
We are radically inclusive – everyone is welcome, regardless of their beliefs (or lack thereof), their sexual orientation, their age, gender, or politics. Our events are free for all to attend, though donations are appreciated. Childcare is provided.
Our Motto: To live better, help often, and wonder more.
Sunday Assembly on Meetup
Sunday Assembly on Twitter
Sunday Assembly on Facebook