About Us
Why NJCOR?
As the most densely populated state, New Jersey is awash in diverse ethnic and religious communities. Less celebrated is the fact that over 1 million Jerseyites out of 9 million identify themselves as either non-believers, agnostics, or atheists (based on the recent Pew U.S. Religious Landscape Survey and U.S. Census data).
Now organizations across the state have come together to raise the visibility and sense of unity among local groups in the community of reason, to create a dialogue on the role of nontheists in New Jersey, and to improve the way that humanists are perceived by their New Jersey neighbors.
Say "Hello" to NJCoR!
Pages
Groups
The NJ Coalition of Reason Organizations:
Members of The NJ CoR:
---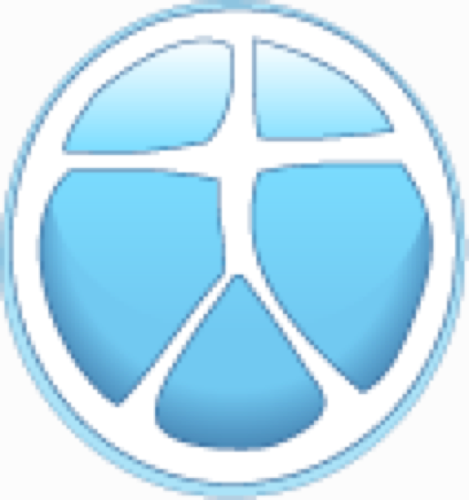 The Ethical Culture Society of Bergen County (ECSBC) is a religious, progressive and humanistic community based in Teaneck, NJ. While most religions are concerned with ethics, ECSBC puts ethics at the center of the search for a meaningful life. Our Social Action Committee has worked on a variety of issues, ranging from organizing blood drives and volunteering at homeless shelters, to spearheading political forums and letter writing campaigns.
ECSBC helped to launch the Bergen Committee for Political Asylum Seekers. This organization works to free political asylum seekers from the unjust treatment of being held indefinitely in the Elizabeth Detention Center.
---

The Ethical Culture Society of Essex County is a welcoming and inclusive religious and educational community whose members join together to explore ethical ideas and ideals and to support each other through life's joys and life's sorrows. Our only commitment is to acting so as to elicit the best in each individual and thus in ourselves. Visit us any Sunday from September through June at 11:00 AM for a lecture or panel followed by discussion and coffee.
516 Prospect Street
Maplewood NJ 07040
973-763-1905
---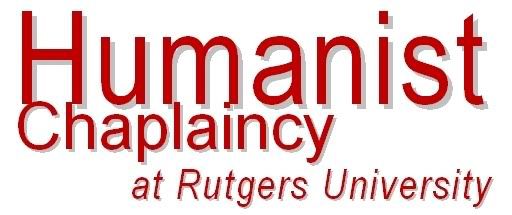 The Humanist Chaplaincy at Rutgers University aims to create a vibrant Humanist community for Rutgers students, faculty, staff, alumni and their families.
---
We are an eclectic grouping of individuals who enjoy free inquiry into any and all topics. Our diverse membership guarantees lively and enthusiastic debate of philosophical, scientific, and cultural issues. We view our physical existence through the lens of objective reality and celebrate human consciousness as the sole source of enlightenment, wisdom, knowledge, emotion, morality, justice and creativity. Our monthly Saturday morning meetings bring in a steady stream of outside speakers to inform and challenge us on a wide range of topics, with plenty of opportunity for questions and discussion.
---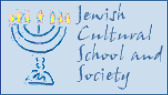 The JCSS, an affiliate of the Congress of Secular Jewish Organizations, is dedicated to the study and celebration of Jewish history and culture within the philosophy of Secular Humanistic Judaism
The Jewish Cultural School and Society (JCSS), serving Northern New Jersey and founded in 1958, welcomes people drawn together by a common interest in Judaism's historical, cultural and ethical heritage. We value the richness of our history, the diversity of our traditions and the many contributions Jews have made to civilization. We conceive of Judaism as an evolving multifaceted human creation that benefits from change and innovation. We seek inspiration from our past to create a more peaceful and just world for all. Through this commitment, we choose to preserve and develop our Jewish identity.
---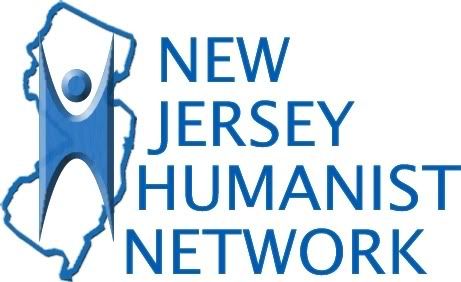 Founded in 1994, the New Jersey Humanist Network is a community of secular humanists. Humanism is a democratic and ethical life-stance, which affirms that human beings have the right and responsibility to give meaning and shape to their own lives, and that virtues like morality, kindness, justice and generosity derive from natural human values and reason, and are realized without belief in supernatural powers or a spiritual afterlife.
NJHN provides a connection for like-minded people for social and educational activities. Families and individuals of all ages and backgrounds are welcome. Our members created the winter holiday celebration of HumanLight (humanlight.org) in 2001 and every year we host the largest HumanLight event in the country. Our NJHN Families group is a great place to meet other parents and children looking for family-oriented activities.
---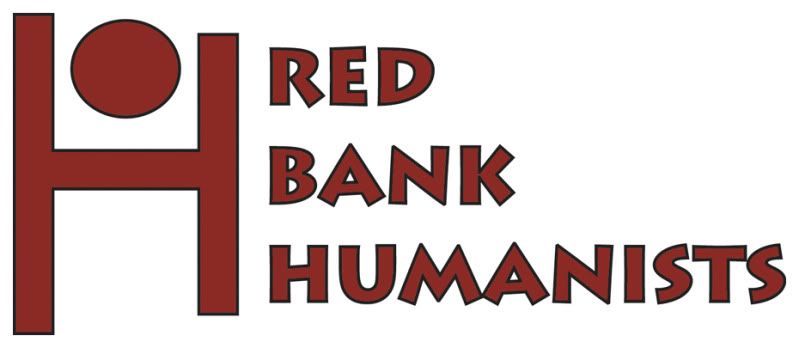 Red Bank Humanists, formed in October 2003, offers a variety of activities for the Humanist community in Monmouth County. Our Forums are the 2nd Sunday of the month at the Red Bank Charter School at 58 Oakland Street in Red Bank – 10:30 a.m.
Atheist? Agnostic? Freethinker? Secularist? Post-theological? Forums offer presentations on provocative topics related to Humanism, followed by an open, moderated, lively yet civil discussion. Forums are free & open to the public. Visit our website to learn about all our events and view our video project.
---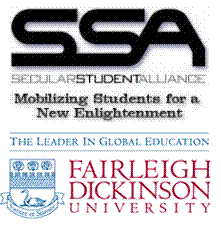 The Secular Student Alliance at Fairleigh Dickinson University is a group for atheists, agnostics, non-religious, secular humanists etc. The purpose of this group is to promote awareness and understanding on Fairleigh Dickinson's campus between the faithful and secular minded.
Our common philosophy is that reason and logic are the best tools for understanding and improving our world. We would like to foster healthy, philosophical debates within the FDU community. Now recently affliated with NJCOR, we are aiming to spread these ideals to surronding communities.
---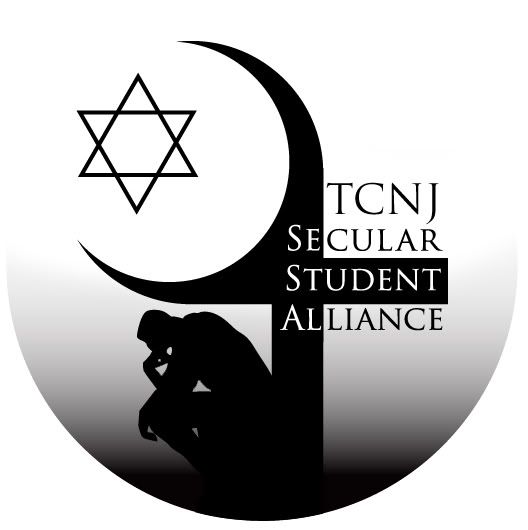 Secular Student Alliance is the only independent, democratically structured organization in the U.S. that serves the needs of freethinking college students.
There are chapters all over the country, and one was established at TCNJ in Fall 2007.
Here are the basic tenets of SSA:
One can lead a meaningful and moral life without belief in the supernatural.
Careful observation and reason are better ways to understand the world than religious dogma.
The separation of church and state is a critical part of good government.
---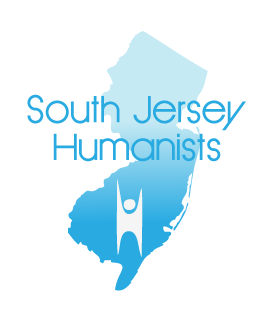 South Jersey Humanists formed in the Spring of 2010 to provide a local forum for those without th eistic beliefs. By providing a locally-based social and educational organization for people who share a common interest in the values of Humanism, we aim to illustrate the principle that Humanists can be "good without god."
Our main goal is the advancement of Humanistic principles through community service, educational lectures, and social events. Our meetings are open to anyone with an interest in humanism. Our members come from counties across southern New Jersey, and include people who consider themselves to be skeptics, atheists, agnostics, brights, free thinkers, and scientists.
Contact: [email protected]
---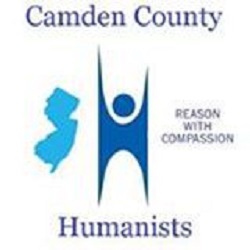 Camden County Humanists is the NJ Chapter of The American Humanist Association, dedicated to spreading the word about Humanism and bringing people together who share an interest in the Humanist way of life. Our mission is to promote logic and reason in the Camden County area and throughout the state of New Jersey. Please find us on Facebook, Meetup and Twitter!
Or email [email protected].
Contact: Bill Flynn / Twitter: @CCHumanists
---
The Gloucester County Humanists believe that humanism is a rational philosophy informed by science, inspired by art, and motivated by compassion. Affirming the dignity of each human being, it supports liberty and opportunity consonant with social and planetary responsibility. Free of theism and other supernatural beliefs, humanism thus derives the goals of life from human need and interest rather than from theological of ideological abstractions, and asserts that humanity must take responsibility for its own destiny.
Join us and we will keep you posted as we announce our plans, events and schedule. Our group is open to all who are interested in making Humanist, Freethought, Atheist and Rational friends, exploring our common interests, and conducting secular community activities. Visit our Meetup webpage.
Contact: Janice Rael
---
Madison Atheist
Get together with local atheists to discuss philosophy, morals, ethics, and to make new friends. Even if you're agnostic, humanist, loosely theist, or just questioning religion, come on over for some friendly, brain-stimulating discussions. We hold our meetings at least once a month. Our meetings are mostly social gatherings where we share a meal and good conversation. Topics are usually current events, and can include discussion of political issues, social issues, or just issues about our lives.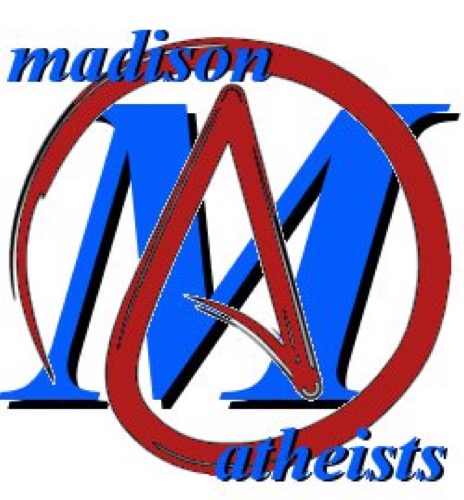 Madison Atheist was formed in October 2009 as a group on Meetup.com. We meet regularly once a month, in the evening, sometimes at the Madison Community House. Sometimes meetings are held at our organizer's home. Our meetings usually include dinner.
Our membership is varied in age, background, occupation, and even level of belief. Our group includes atheists, agnostics and people who are still searching for their spiritual identity. We have people who are completely "out" to the world and who are proud to show their atheism. Some of our members prefer that their atheism be private and something that is known to those who they choose to share it with. We also have some members who are not yet "out of the closet" and whose atheism is completely secret, but who've chosen to share it in our group. Visit our Meetup webpage.
Contact: Madison Atheist