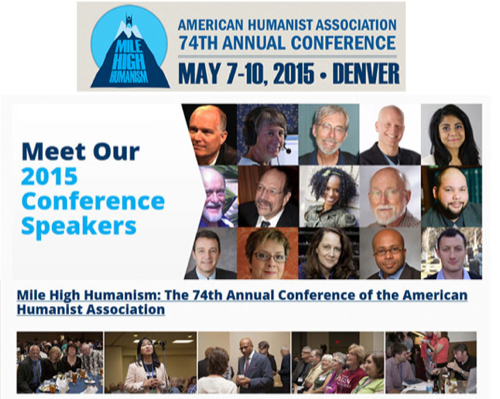 Mile High Humanism: The 74th Annual AHA Conference
The American Humanist Association's 74th Annual Conference was held jointly with the 4th Annual Colorado Secular Conference in 2015!
The conference included four days of informative sessions on: Humanism ∙ Reproductive Freedom ∙ Marriage Equality ∙Atheism ∙Science ∙Freethought History ∙ Diversity ∙ LGBTQ and Women's Rights ∙ Marijuana Policy
About the Colorado Coalition of Reason
The Colorado Coalition of Reason (COCORE) is an umbrella organization of Colorado-based community groups supporting reason, freethought, and the separation of church and state. The groups in turn support Colorado atheists, agnostics, rationalists, skeptics, secular humanists, freethinkers, brights, and other individuals looking to associate with like-minded people in supporting Reason and secular society.
We encourage other free-thinking, atheist, or secular humanist groups to join the Colorado Coalition.
Member groups of the Coalition organize activities and events for their communities. They may also use COCORE to plan and coordinate events with other groups. Examples of activities include:
social gatherings and meetings
public outreach booths at community fairs and events
sponsoring local and national speakers
demonstrating against religious intolerance and coercion
opposing legislation sponsored by religiously-motivated organizations
providing local speakers on atheism and secularism to organizations and schools
other community activities that support atheism, secular humanism, and the separation of church and state.
COCORE also seeks to support those who are victims of religious coercion or harassment. This includes groups and individuals persecuted by religious groups. It also includes United States military personnel and civil servants who find themselves being pressured or coerced by leaders and organizations seeking to advance a religious belief and value system to the exclusion of others.
Pages
Groups
The groups listed here are associated with The Colorado Coalition of Reason. If your organization would like to become a part of COCORE, please contact us at at [email protected]
Atheists and Freethinkers of Denver is a Denver-based group self-described as "an eclectic group of secularists, rationalists, humanists, skeptics, agnostics, and atheists"
Found on the Web at: www.atheistsofdenver.org
Beth Ami provides the opportunity to celebrate Jewish culture and identity consistent with a humanistic philosophy of life. Humanistic Judaism offers a Secular alternative in contemporary Jewish life, and is compatible with many belief systems. This congregation meets in a variety of places in the greater Denver-Boulder area.
See their Web site at: www.bethami.com
The Boulder Atheists is a group of secularists, rationalists, humanists, skeptics, agnostics, Brights, and atheists in and around the Boulder area. They organize weekly and monthly social gatherings and have regular monthly meetings.
Found on the Web at: www.boulderatheists.org and also on Meetup.com at: http://www.meetup.com/Boulder-Atheists/
Boulder Heretics is an informal group of atheists, agnostics, freethinkers, and curious that meets once a month in Boulder to discuss whatever is on their minds.
More information is available from: [email protected]. You can also visit their group page on Atheist Nexus.
Camp Quest of Colorado offers residential summer camp for the children of Atheists, Freethinkers, Secular Humanists, Humanists, Brights, or whatever other terms might be applied to those who hold to a naturalistic, not supernatural world view.
See their Web site at: www.campquestco.org. Camp Quest Colorado also has a Facebook page.
The goal of this group is to be all inclusive and welcome freethinking soul sisters, women from all ethnicities and walks of life. They provide an open group for sharing stories in a supportive environment. A secular group of women looking for camaraderie and open communication and fun social activities.
See their page on Meetup.com: Colorado Women of Freethought.
The Denver Atheists welcome Atheists, Agnostics, Free-Thinkers, Humanists, Skeptics, and most anyone with a rational worldview.
See their pages on Meetup.com: www.meetup.com/denver-atheists/calendar/
The Freedom From Religion Foundation, Metro Denver Chapter, has the goal of promoting and safeguarding the constitutional provision of the separation of church and state. The chapter's mission is to participate on the local level to protect the principle of church state separation, with a primary focus of educating others in the community on this critically important issue. Regular meetings are held at a local secular 'gathering place' called The Secular Hub, located at 3100 Downing Street Unit C in Denver.
See their Website and their page on Meetup.com: FFRF Denver.
The Freethinkers of Colorado Springs advocate the use of reason, defend the separation of church and state and support human rights, civil rights, tolerance and equality for all. They also provide social gatherings, activities, and events for freethinkers, atheists, humanists, and others in the Colorado Springs area.
Found on the Web at: www.freethinkerscs.com
Free Thought Exchange project works to connect churches with local area secular communities. Free Thought Exchange is about learning how to work and live agreeably and peacefully alongside those with different beliefs. They propose casual events with gracious interaction with the goal to remove common misconceptions about they different groups through mutual respect.
See their Web site at: www.freethoughtexchange.com/. Free Thought Exchange also has a Facebook page.
Freethinkers of Northern Colorado is an organization that supports a positive view of atheism in local communities and the world. They provide a community for socializing, activism, and emotional support in the Fort Collins and Loveland areas.
Found on the Web at: http://nocofreethinkers.blogspot.com/
The Humanist Action League (HAL) is a Colorado Springs-based educational and social service organization that promotes humanist principles and protects the rights of freethinkers, humanists, and other non-religious people in eastern Colorado.
See their website at: www.humanistactionleague.org
Humanists Doing Good is an official Chapter of the American Humanist Association. They operate as a nonprofit corporation composed of nonreligious people who work hard to promote the doing of good deeds coupled in harmony with rational thinking. The organization coordinates volunteers who go into the community to perform good deeds for people and organizations where assistance is not otherwise on the way. The organization also works to promote a stable community of individuals interested in learning about the universe we live in while trying to maximize the good they can bring into existence. The organization deals with a wide variety of challenging topics and social issues and encourages open discussion.
See their website at: www.humanistsdoinggood.org/ and on Facebook at Humanists Doing Good.
Humanists of Colorado advocate for individual liberty and opportunity while practicing responsibility to society and planet Earth. The group also advocates democracy, human rights, and social justice. They organize monthly meetings with speakers on a variety of topics, as well as other events. They are a non-profit organization that is dependent on membership dues. Dues-paying members receive a monthly newsletter.
Found on the Web at: www.humanistsofcolorado.org and also on Meetup.com at: http://www.meetup.com/humanism-160/
Humanist Vistas of Northern Front Range supports humanists, secularists, and other non-theists in Northern Colorado. They have a Facebook page .
The Jefferson Humanists was formed by individuals who feel strongly that their voice, as a humanist voice, needs to be heard on many matters occurring in Jefferson County, Colorado. This Chapter of the AHA is focused on the Jefferson County and the adjoining Front Range area. The group holds monthly meetings at the Jefferson Unitarian Church of Golden.
See their Website and their page on Facebook .
The Pikes Peak Skeptics Society promotes science, reason, and critical thinking. They support the teaching of science, especially evolutionary biology, and critical thinking in public schools. They promote science-based medicine as the standard for health care. They have a committee to evaluate claims of the paranormal. Their stated goal is to minimize damages caused by irrational thinking and erroneous beliefs. The group meets monthly for Drinking Skeptically, holds occasional movie nights, and frequently has monthly discussion groups, and socials. Found on the Web at:www.meetup.com/pikespeakskeptics/
Pikes Peak Atheists is an inclusive group which provides ongoing opportunities for community building. This includes social events, educational opportunities and discussions, and community service activities for all nonbelievers in the Pikes Peak region. Opportunities for adults, families and kids are offered between their main Meetup and that of their partner group, Pikes Peak Atheist Families .
See their pages on Meetup.com: Pikes Peak Atheists.
Pikes Peak Atheist Families is an inclusive group which provides a way for atheist families to come together to support each other and find like-minded peers. We offer opportunities for families, teens and kids of all ages. We have events for all ages from infants to teens. Some of the community building events offered include social events, education, and community service opportunities.
Visit their page on Meetup.com: Pikes Peak Atheist Families.
Secular ACCESS is a group is for atheists, agnostics, secular humanists, freethinkers, skeptics and those questioning their beliefs. ACCESS stands for Activism, Community, Collaboration, Education, Socializing and Secularism.
See their Meetup site.
This is a social group geared towards secular families. Freethinkers, atheists, agnostics, skeptics, humanists etc. are welcome. We get together for dinner or activities for families with children. Some events are for younger children and some for older. We'll generally meet in the Littleton, Lakewood, Arvada, and Highlands Ranch areas. We are in the process of organizing more events in Boulder and the surrounding area. You'll see more events towards the North coming soon. Found on the Web at: http://www.meetup.com/secularparents2008/
Secular Student Alliance at UCCS is a student group at the University of Colorado, Colorado Springs. They are an affiliate of the Secular Student Alliance. Found on the Web on Facebook at: www.facebook.com/UCCS.SSA
The Secular Hub is a physical meeting space for secular (and other) groups in the community and an organization that sponsors activities focused on building community, advancing reason, and giving back. The Secular Hub exists to help explore individual commonalities and differences… to create an environment to find support… to build, strengthen, and empower the diverse secular community to accomplish more together than can be done by individuals alone.
See their Web site at: www.secularhub.com. The Secular Hub also has a Facebook page and a Meetup site.
Summit County Secular Freethinkers (formerly: Humanists and Freethinkers) wishes to bring people together to promote the understanding and acceptance of free-thought and rationality with public education, good deeds, group activities and affiliations with other secular groups. Their goals are:
* To actively pursue philanthropic work in our local community.
* To host casual meet-ups, discussion groups, and fun activities.
* To create a welcoming environment where people leaving religion can feel secure.
* To promote activism through education in reason and rational thought.
Found on the Web at: www.meetup.com/Summit-County-Humanists-and-Freethinkers/.
Sunday Assembly Denver is a community of people who meet for a church-like service without religion. Their goal is to create a place to go to listen to great music, learn from intelligent speakers (like TED talks), and meet other like-minded people in the community.
See their Website and their pages on Meetup.com: Sunday Assembly Denver and Facebook .
Organized in 2007 in Grand Junction, Colorado, the WCAF goals are to inform and educate the public in Western Colorado about atheism, to promote atheism through appropriate public and community activities, to actively preserve and promote the separation of church and state and promote the acceptance of atheism as a valid belief system. WCAF also provides western Colorado atheists and freethinkers a way to connect with one another, share information, enjoy social activities, friendship and freethinking conversation. Found on the Web at: http://westerncoloradoatheists.org/