by Col. Erwin Kamp, MSc
Chief of Chaplains (Humanist)–Royal Dutch Marines
Last week I visited the International Military Chief of Chaplains Conference in Portsmouth, England. It was an interesting week, and I spoke to chaplains from the UK, USA, Germany, Sweden, Belgium and Norway. Of particular interest to me was that Norway's first Humanist military chaplain began her work on 1st February. We now have a third country with Humanist chaplains in the Armed Forces, and to me, this is highly important and encouraging news. Rear-Admiral Blunt spoke in public and thanked the Humanist chaplaincy for being present, which is always good news and nice to be publicly appreciated.
Even Gran also wrote an article about the Norwegian "feltlivssynshumanisten" ("field humanist" or chaplain) that we can translate for your readers here:
She is the first Norwegian field humanist. The appointment process in the military is over. The new feltlivssynshumanisten started the job on February 1.
Ida Helene Henriksen was the best out of the 15 applicants. On February 1st, 2017, she began her position as Norway's first field humanist, or "field beliefs humanist" which is the formal, correct term for the position.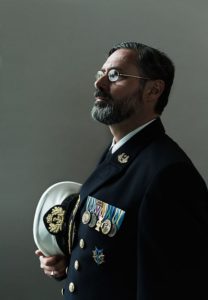 Henriksen has a Master's degree in philosophy from the University of Oslo (2012) and has since worked as an independent philosophical practitioner. Additionally, she is a yoga instructor. Henriksen has lined up for the Norwegian Humanist Association on several occasions. In 2013 she was hired by the NHA to teach humanistic yoga courses, and in August 2014 she answered the philosophical question of the NHA in Oslo during Humanistic week. Henriksen has also worked for several years as a trainer on Humanistic confirmations. She comes straight from a job as a counsellor, having completed studies in equality for children.
Feel Responsible to Walk the Trail for Others
Henriksen feels it is a responsibility to be Norway's first field beliefs humanist. "It's starting to sink in. It will probably become that there'll gradually be more field humanists, and then it will become an important task for me to go up the trail for them. It's an historic turning point that this job will now be done by anyone other than [theistic] chaplains. It will be exciting to shape the new position together with chaplains and the Humanist Association."
Henriksen is obviously very pleased to have been given the job, and initially most excited about how the meeting will be with her fellow chaplains. "In the first place, I'm probably most excited about the soldiers—the people for whom I will be there. What needs and experiences do they have? What dilemmas do they face which I might help them?" she said.
Must at Officer Candidate School
The Field Humanist position is a military position. This means that Henriksen must now go through military officer education, which starts in the fall. When she is finished, she will be commissioned with the rank of Commander, which corresponds to Major in the Army. Henriksen has no prior military experience.
Henriksen must also be prepared to be sent out on international operations abroad, though it is not likely in the first place. "I agree that it is part of the position, but this also assumes that there will be no operations abroad during the first years. I am mother of young children, so it becomes difficult if this were to happen. I will obviously relate to this when it eventually comes," she says.
Looking Forward to Your Cooperation
The Armed Forces have asked that the Norwegian Humanist Association be called an endorsing organization for the new feltlivssynshumanisten. It means that the NHA will certify and oversee their appointees. There is also a requirement for membership in the Association.
Secretary General of the Norwegian Humanist Association, Kristin Mile, sent her congratulations for Henriksen's commissioning: "I certainly want to congratulate Ida Helene Henriksen with confidence. We are glad that the Ministry of Defence has added a field humanist and look forward to working with her."
UnitedCoR is grateful to Col. Erwin Kamp for letting us know of this wonderful news in Europe with America's allied armed forces. Congratulations to Commander Henriksen, and our best wishes for your appointment!!