by UnitedCoR's Education Officer and National Coordinator
Education Officer and National Coordinator—United Coalition of Reason

Read this article in Dutch!
UnitedCoR was pleased to receive an email a few weeks ago, informing us that Erwin Kamp, MSc was given a promotion to the rank of Colonel and was named the Head of Humanist Chaplains in the Royal Dutch Armed Forces. With this promotion and prestigious appointment, Col. Kamp is now the highest-ranking non-theistic pastoral caregiver in a NATO military force. It is a privilege and honour for us to hear from Col. Kamp about his honorable service to a military that is allied to the United States, and to hear of his work, raising the profile of non-theism in his high-profile role.
UnitedCoR: Tell us a little more about your journey to where you are today. What influences in your life led you to becoming a Humanist chaplain? How many years of service have you given to people as a Humanist chaplain?
Col. Erwin Kamp: I was born in 1965 into an atheist family. My parents thought I needed to be raised with the idea that everyone is equal and no one has a monopoly on the truth.
Until I was twelve, I went to an Elementary school in Zeist. At my school, there was a lot of freedom, and yet pupils were also told that they had to feel responsible for their own actions. During high school, my mother became seriously ill with Multiple Sclerosis. This was a violent and hurtful time for my family. I remember thinking, "Why is the sweetest woman in the world become incurably ill? If there is a god why is he doing this to us?"
The response that "god works in mysterious ways" was an insufficient answer to me. Watching my mother struggle with this disease, I thought more and deeply about the meaning of life. Eventually, I went to study at the Universiteit voor Humanistiek (University of Humanistic Studies) in Utrecht—a very beautiful and interesting place.
After four years, I graduated with honors, and then I immediately for a job at to the Department of Humanist Spiritual care in the Dutch Armed Forces. This is my seventeenth year of loyal service, and as of June 1, 2016, I will become the Head of Service of 38 Humanist chaplains. I think that is a great honor, and a major achievement in my career.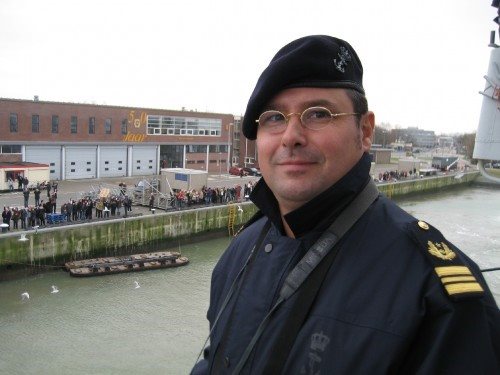 UnitedCoR: Sometimes people ask "How could a chaplain not believe in a god?" Can you tell us about your work, and how much of what you do requires belief in a god?
Erwin Kamp: As a chaplain, there is nothing that I do that requires the existence of a higher power. My starting point is the human, and every person has questions about the meaning of their existence—whether they are theistic or not.
These questions are something that belongs to humanity. There was a time in human development that there were no organised religions. Any ideology or religion focuses on two main questions:
How do we get our knowledge? and
How do we know about good and evil?
As a Humanist, I always say that I attach great importance to scientific research. I think we can expand our knowledge by observing and checking if our knowledge is correct. A theistic believer, such as a Christian might agree with my point of view; however they also rely on prophecies, visions and revelations. This kind of knowledge isn't valid for me as a Humanist because we can't check to see if it's true.
When it comes to right and wrong, I always let people know that there was a pre-Christian time. I think the people in prehistoric times had values too, though it is only addressed to survive as a group. Where people work together, agreements on good and evil arise, and you don't need a religion for this. Morality comes from the human themselves, and not from a belief in a higher power.
In the seventeen years that I've served and worked with the Dutch Armed Forces, there was only one time a soldier asked me to pray with them. Soldiers, veterans and their families come in the first place to me because they know me, and they trust me. I speak the same language as they do, and I have empathy to know what they go through. Sometimes the conversation is also about everyday matters. My motto is: "I also talk to people when they doing well!" Pastoral conversations and my work as a chaplain don't always have to be about serious subjects.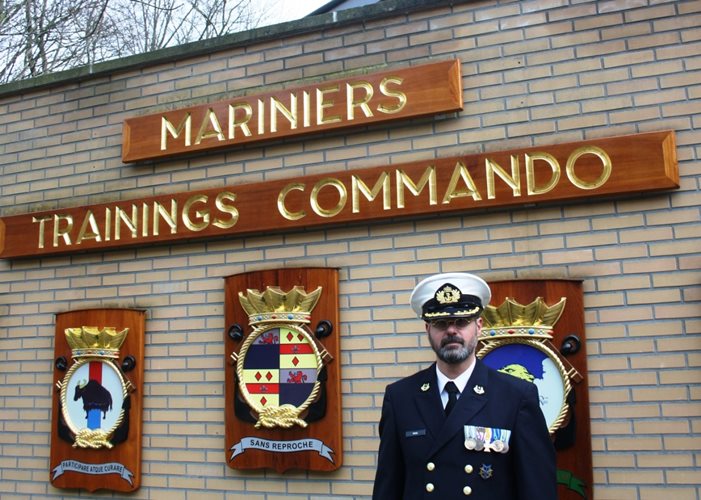 UnitedCoR: Were there any challenges you have overcome through the years, especially in terms of other chaplains not accepting your work, who may not immediately understand the concept of a chaplain who does not believe in a deity?
Erwin Kamp: In the Dutch Armed Forces, I feel completely accepted by veterans and their families and also by other denominations. My predecessors in the 1960s and 1970s have had to battle for their position. In that sense, I came to my commission in a comfortable situation.
There are times that Christian chaplains ask me about my inspiration. If I respond to them and tell them I refer to art, other humans, culture and literature, it's usually understood and accepted. But, Humanism is not so well-understood outside of Europe. I say this because I've been on a tour of duty a few times when I met chaplains from other countries. I make it a point to visit them to make contact.
I've noticed that they often think in "black and white." They think that if you don't worship a god, you must worship the devil, or some evil being. This is not what I hear in The Netherlands. Fear of the unknown is one of the reasons that chaplains of other religions are too fast to judge Humanism. Fortunately, we join today as Humanists in the International Military Chief of Chaplains Conference (IMCCC).
I've already participated in a meeting in Amsterdam and told them about Humanism in the Netherlands. I met many chaplains from other countries and that gave me the opportunity to explain what we do as a Humanist chaplains. They learn to see—without demanding—that we are equal and a respected partner with other chaplains in The Netherlands.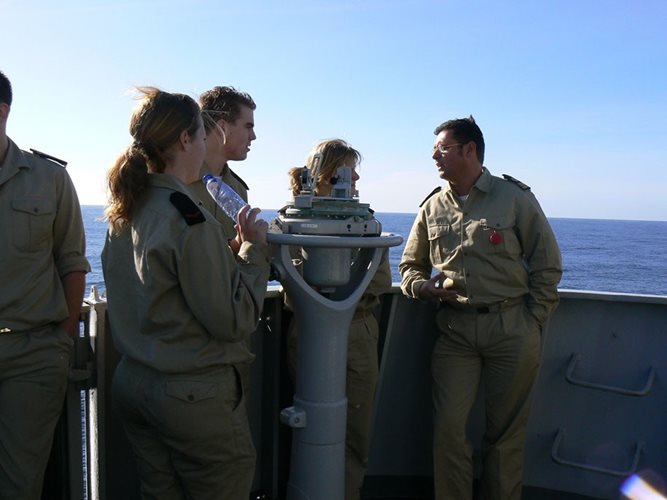 UnitedCoR: What would you say has been the most humourous moment in your military chaplaincy? What did you learn about life, people, yourself, etc. from that moment?
Erwin Kamp: I don't know if this is the most humorous moment of my career but during my tour of duty to Ethiopia, I met a Canadian Christian chaplain. He told me that his service every year gives a prize to a Roman Catholic colleague who asks the most stupid question in the past year.
Last year, the prize went to those who had asked whether you could also be a chaplain without believing in god. I told him that the living proof is standing in front of him and that I think that the prize should be returned because it's not a stupid question. Humor is very important in our work, and this also applies to military personnel. It puts experiences into perspective and makes you sometimes look from a distance at yourself and make yourself laugh.
In my experience, people who don't laugh at themselves are often the most difficult people to deal with. People who feel better about themselves over others because of some belief, and who want to impose it by force, are dangerous to society. I believe in freedom of thought and conscience. Personally, I have not time for dogmas or "eternal truths."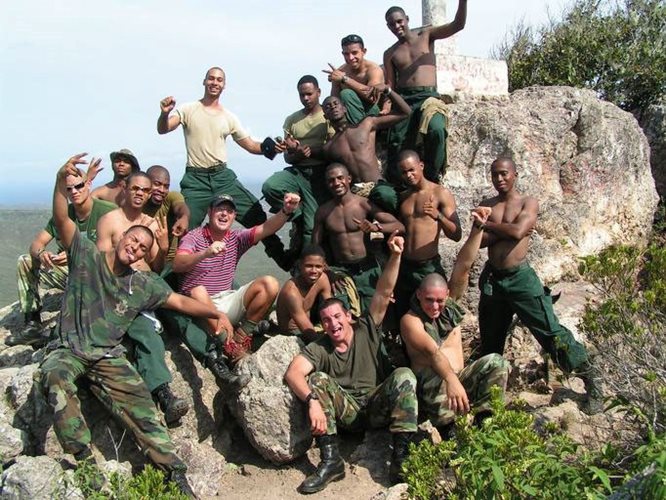 SC: Humanism means different things in other places around the world. What do people in The Netherlands view as "Humanism"?
EK: Humanism is a philosophy of life in which humans and human development are the central point of view. Humanism relies on the inherent strength of people: that each individual can think critically for themselves, can make their own judgements and can give life content services. A Humanist likes the debate and is curious about new insights. Humanists have inquisitive, open-minded spirits and want to understand the world.
In Humanism, two important motives and inspirations are distinguished: firstly, the ideal of a dignified life for all, and secondly, the ideal of autonomy, individual freedom and developed abilities to think critically. Think for yourself and life together. Every person is different, and these differences are what Humanists regard as good value. It is therefore not in the Humanist philosophy of life to impose a particular will on people in that everyone does the same. The point is that people try to live their life in such a way that it is valuable and has self-meaning. They recognize it, they live their life as individuals, and it is valuable and meaningful. This can be different for everyone.
There are some points that are common to most Humanists in the Netherlands:
They give each individual a decent life;
They reject any form of fundamentalism or coerced opinion;
They consider democracy as the optimum form of government and a guarantee against abuse of power;
They are in principle in favor of the separation between religion and government;
They point-out discrimination based on sex, race, ethnicity, sexual orientation, age and belief;
They are a tolerant society based on shared values, but also provides space to fill out their own responsibilities;
They fight for equality where Humanists who are disadvantaged in comparison to other ideological orientations;
They do everything possible for training and education to be as accessible as possible;
They come openly to their Humanist convictions and are prepared to enter into discussion about them;
They recognize that doubt and reviewing your opinion is always possible, due to new experiences or information.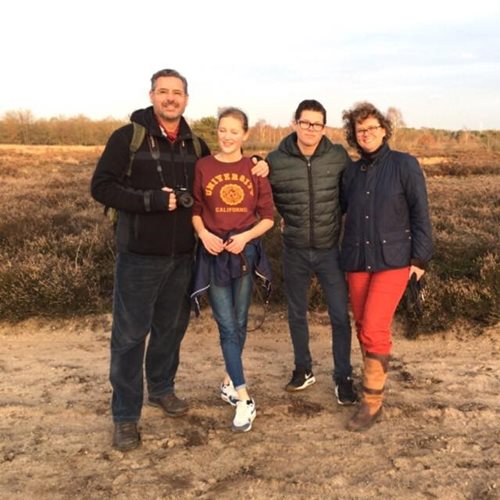 UnitedCoR: What do you think the future might hold for Humanist chaplains, especially in the military? What would also like to encourage others who don't believe in a God to do in order to support Humanist chaplains?
Erwin Kamp: In the future, the Humanist Chaplaincy will become more valuable for soldiers, veterans and their families. Secularism still continues in The Netherlands and it flourishes. Still, people need certain cadres in life. Many Dutch people attach themselves to self-determination—for instance, look at our debate on euthanasia and abortion. We have a very considered and supported policy for these issues in The Netherlands. Many people in The Netherlands subscribe to Humanistic principles even they do not always realise it. It's our job to continue to identify and tell about our life stance and beliefs to others in the Armed Forces.
I predict that the international importance of Humanist Chaplaincy will also increase. I think that the introduction of Humanist Chaplaincy in the United States is only a matter of time. I would like to get some time at the Pentagon to explain why the Humanist Chaplaincy in the Netherlands is so successful and why military personnel, veterans and their families consider it so valuable. My service to The Netherlands is part of a 50-year history as a trusted and valued partner for defence: military and non-military chaplains. We've proved that it's possible and that we matter and make a difference to everyone!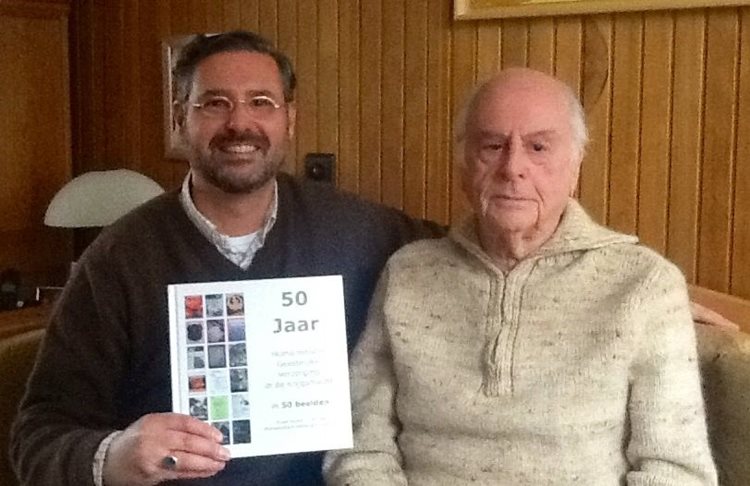 Thank you, so much, Col. Kamp for taking the time out of your schedule and family life to give UnitedCoR this first, exclusive interview! We would invite everyone to follow Col. Kamp's work through his personal website (that his son made for him as a birthday present), Twitter and Facebook.
And UnitedCoR's Executive Director says, "Thanks for the signed book!"
Col. Chaplain Erwin Kamp's Career Highlights:
2016 – Current: Head of Humanist Chaplaincy—Dutch Armed Forces.
2012 – 2016: Coordinator of all (Roman Catholic, Protestant, Jewish, Hindu and Muslim) Chaplains at the Dutch Veterans Institute (equivalent of the VA)
2012: Presentation of my second book with Dr. M. Schok, Na de missie (After the Mission), regarding tips and tools for military, veterans and their families after deployment
2011 – 2012: Interim Head of Service—Humanist Chaplaincy Dutch Armed Forces
2008 – 2011: Staff member—Humanist Chaplaincy Dutch Armed Forces
2009: Presentation of my first book, Raadsman, heeft u nog raad? (Humanist Chaplain, do you have any advise?) with regards to my work as a Humanist Navy Chaplain at the Royal Dutch Marines
2004 – 2008: Overseas placement, Curaçao (Dutch Antilles) as a Humanist Navy Chaplain Royal Dutch Marines
2004 – 2008: Humanist Navy Chaplain at Hr. Ms. Tjerk Hiddes, Hr. Ms. Zuiderkruis and Hr. Ms. Van Galen (sailing at the Caribbean Sea and Atlantic Ocean)
2007: Mountain training Royal Dutch Marines at Bridgeport (California, USA)
2006: Jungle training—Suriname
2000 – 2004: Humanist Navy Chaplain at the 1st and 2nd Battalion Royal Dutch Marines
2003: Deployment as a Humanist Navy Chaplain with 1st Battalion to Iraq Al-Mutthana
2001 – 2002: Winter training—Norway
2001: Mountain training—Norway
2000: Deployment as a Humanist Navy Chaplain with 2st Battalion to Ethiopia/Eritrea (UNMEE) United Nations Mission in Ethiopia and Eritrea
1999: Specialist training—Royal Navy Institute