Susan
Education Officer and National Coordinator—United Coalition of Reason
Last month, Jase wrote about the retirement ceremony that he helped officiate for Chief Petty Officer Doug Wright of the San Diego Coalition of Reason and the Military Association of Atheists and Freethinkers (MAAF). There's more to Chief's retirement than his ceremony, thanks to the Inland Empire Coalition of Reason, located a little over 100 miles north of San Diego in Riverside, California.
The night before Chief's retirement, the Inland Empire Agnostics and Atheists held a special event in Chief's honor, to not only commemorate his service to America, but to also provide a venue where other non-theists-in-uniform could tell their stories and recall their experiences as open non-theists in a theistic-dominated American military. As I'm British, I haven't yet learned the American "Pledge of Allegiance," as there is nothing remotely similar to this in the UK. But, I vividly recall the pride that everyone who attended the event displayed as they stood and said the 1923 Pledge—minus the whole 1950s "under god" business—as true patriots who created a sense of unity because not every American recognises a deity and if they do, there is no agreement as to which god this "one nation" is purportedly under. Following the Pledge, to help create a solemn occasion where members of American militaries and allied forces to America were commemorated and honoured, Jase asked every member of the audience if they had served to raise their hands, or if they hadn't served, to talk about someone in their family who had. (I honoured my father's service in His Majesty's Royal Air Force during World War II: he flew in Myanmar in the defence of southeast Asia against the Imperial Japanese forces. My father is the second from the left in the photograph below; he, too, was an avowed non-theist until the end of his life.)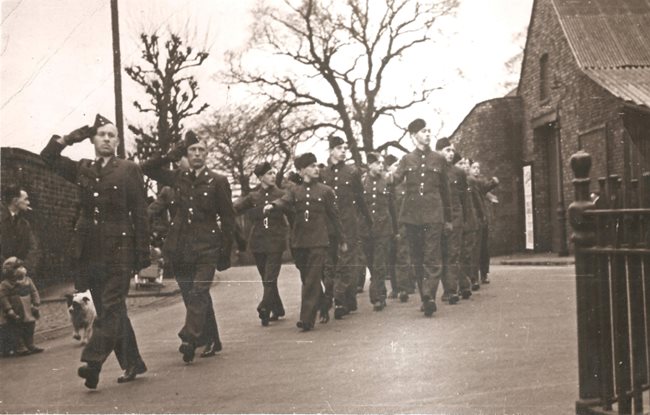 The panel discussion was highly interesting, as the questions came not from one person, but from many: Jase had spoken with vets from as far back as World War II up to current cadets in the academies, and took questions from them to pose to the panel. The experiences from the panellists was clear: although the military has certain regulations to which everyone must adhere, the issue of religion—especially proselytisation whilst on duty—is still a "grey area" that some commanders, and even commissioned chaplains try to infringe upon, despite clear regulations. Each panellist discussed their personal experiences, and I particularly remember how Major Ozols (center, below) noted that, as an officer with many years' service, evangelical-endorsed chaplains didn't target him for proselytising, but as for the younger, enlisted recruits, they were a field ripe for harvest. Both Lt. Col. Bauwens and Chief Wright had experienced similar things in their time. After insightful and candid discussions, we tucked-in to a Southwestern cuisine that I had yet to experience and had a wonderful evening of getting to know some new people even better.

But the "There ARE atheists in foxholes" evening discussion wasn't the end of the celebration! During the evening after Chief's retirement in San Diego, Jase and I returned to the Inland Empire to support the Inland Empire CoR in action, as they had returned with their "Ask and Atheist" booth. Major Eric Ozols (from the previous evening's panel) and friends had set up a prominent booth in the middle of a town market in Redlands, CA. As people filed past the booth, I noticed that some folks were complimentary of the booth's simple message of calling out to other non-theists in the community, whilst only a few chose to ridicule and heckle. (One young woman that night said, "I wanted to say, 'God bless you!' to which Jase replied, rather loudly, "Which one? There are well over 2,500 of them throughout written human history." Needless to say, she didn't answer him.) For those people who did stop and talk to the booth's attendants, or who picked up the ample piles of literature that were available, I noticed how polite, calm and collect the attendants were. There was no judgment made for the questions; nobody ridiculed any question that was posed, and certainly there was no animosity displayed towards theistic people who had genuine questions. I remember a conversation where Major Ozols said to Jase, "When you're out here in this situation, you're not playing to your home team. You have to be able to sympathise with people you don't agree with, and be careful to not make them feel as if they're an idiot for espousing their own beliefs. You have to know your stuff more than when you're talking to the 'home team,' because there are people here who might know more than you do. Sometimes, the people who take our literature have more questions than we can answer, and it's our job to be non-confrontational and certainly non-judgemental with them. Our best contacts are people who are curious and need some friendly and warming voices to help them discover non-theism on their own terms."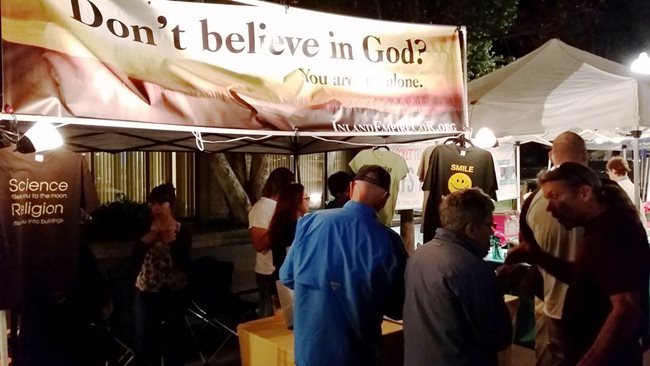 Although Jase was able to take part in Chief's retirement ceremony, it was a good experience to see other events take place in his honour, especially to actively seek-out other non-theists or theistic believers who were friendly and open to non-theistic people. We look forward to hearing more from the Inland Empire Coalition of Reason's work, and if your local groups would like to recreate this successful outreach programme, please email us to find out more!