Susan
Education Officer and National Coordinator—United Coalition of Reason
A little over a year ago, UnitedCoR was invited to display at table at the FreeFlo conference in Orlando, and Jase was also invited to speak. During that conference, we met many people—especially Jocelyn Williamson of the Orlando CoR. Jocelyn is a lifelong Humanist in her approach to life. Raised by freethinking parents whose parents became atheists in their life, she is a third generation atheist. Educationally, she has an MBA as well as an undergraduate degree in Political Science. Jocelyn co-founded and is a director of the Central Florida Freethought Community, which is working to build a secular community and to keep religion out of government in Central Florida. She also serves as the President of the Florida Humanist Association, serves on the board of BE Orlando, and founded the Science League for Kids, a local group that is an alternative to the Boy Scouts for boys and girls, ages 6 to 12, as well as a Skeptical Parenting Group on Facebook.
To pay the bills, she is a university business instructor.  Prior to working in education, Jocelyn worked for years in international marketing. After living and working in such varied places as Denmark, Japan, and the Turkish Republic of Northern Cyprus, she has settled in Central Florida, where she enjoys kayaking, growing fruit trees, bee-keeping, all things related to science fiction, the arts, and politics.
UnitedCoR: You self-identify a Humanist, could you explain a little more about what led you to become a Humanist?
Jocelyn Williamson: I was raised as an atheist by a father who quickly pointed out any and all horrific points in history that were caused by religion. At the same time, reason, science and being involved with our local community was stressed in my home. My mother—being a public high-school teacher and my father, a non-profit fundraiser—stressed human rights and social justice. Debate about politics and the impact of policy on the "every day person" was the standard dinner conversation. Recently I have become a Humanist celebrant, but I sincerely believe I have been a Humanist since childhood, by most definitions of Humanism.
The decision to become a celebrant came out of several different things. First of all, the Humanist Institute organized a time to come to my area to hold a workshop which really helped me to overcome any hesitation I had about performing ceremonies. Growing up without very much ceremonial experience has caused me a bit hesitant about my ability to be an officiant. The Society does a great job with introducing a wide range of ceremonies and explains how to approach them.
There is a need in the nontheistic community for people to conduct weddings, hold memorials and generally provide these services. People locally were looking for people to help with these and with my community involvement, it seemed a good fit. In the past two years, I have become a regular speaker with the Orlando Interfaith Council as an atheist and as a Humanist. Having a 'title' of Humanist Celebrant does add a level of "officialness" with this. Also, when giving invocations at the local city government meetings, this title is useful.

UnitedCoR: Some theistic groups are still fighting about women in leadership roles. Where do you see some areas that Humanism provides better diversity and do you see any areas that still need to be improved?
Jocelyn Williamson: Clearly when comparing Humanism to theistic groups, Humanism is more inclusive because it clearly embraces diversity and the expansion of an open society. The focus on a more humane, compassionate and democratic society with pragmatic ethics leads to recognizing the commonalities of humanity.
That being said, I think that diversity is a challenge across several areas. We don't see as many people from minority groups attending meetings as we would like, although we've tried to encourage the growth of the Hispanic American Freethinkers locally and have strived to support the local Black Nonbelievers. Supporting these organizations, I believe, is essential. These groups are facing unique challenges as they move from theism to atheism. Also the LGBTQIA groups need our support. After the Pulse Tragedy in Orlando, we have worked hard to make sure that we are reaching out consistently.

In my area, there are many women involved in the organizations, and it appears that this trend is persistent across the Central Florida area. When I look at the larger Humanist/Atheist community, it does appear there are not as many speakers that are women, but I think this is changing quickly.
Oddly enough, one group that has been harder to engage is people with families. I definitely think that encouraging activities that appeal to families is important, as children can be a challenge to people joining local groups.
UnitedCoR: You're very active in your community. What was it that first got you involved in activism, and what sort of things have you been involved in?
Jocelyn Williamson: Life is about trying out new things. When I was 15, I lived in Omaha, Nebraska and I remember doing a weekend protest at the Offutt Air Force Base. I thought I was pretty hard-core as we camped overnight! But honestly, that had more to do with older friends influencing me.
When I was working on my undergraduate degree I volunteered on campus to sign people up to vote. I was quite strident as a young woman and felt that EVERYONE MUST VOTE. And that anyone who didn't was a fool.
But then I left the US for a few years and was focused on experiencing new cultures. When I returned, I gave birth to my son and transitioned into being a single mother for several years. It wasn't until I met David, who reminded me of all the potential harm that could be done in the name of religion that I became reactivated. As we worked on separation of state and church violations, I realized that a sense of community was missing. It's great to point out what is being done wrong, but to really involve large numbers of people we need to be a community. Just being activists wasn't enough for me, and there are several reasons why it is important. One: When people leave religion, they need some support. Two: If we want our activism to be most effective, we need volunteers; people are not going to volunteer immediately (and even if they don't volunteer, they may donate which is also helpful). Three: It feels good to have a community and to not be alone.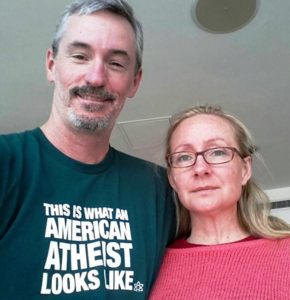 I co-founded the Central Florida Freethought Community (CFFC) which is a chapter of the Freedom from Religion Foundation and an affiliate of the American Humanist Association. We have worked on a lot of things. We stopped the bibles being distributed in Orange County Schools. We've given more than 45 invocations at local government meetings. We're involved in a lawsuit with Brevard County as they will not allow atheists to give invocations. There are monthly speaking events, quarterly parties, a local park we have adopted, blood-drives, volunteering at the homeless shelter, talks on humanism and atheism with the Interfaith Council of Orlando and local colleges, lots of social events and our annual Freethought Cruise. In March of 2018 we will have our 5th cruise with Annie Laurie Gaylor and Dan Barker of the FFRF!
UnitedCoR: What would you say has been the most humorous moment as your work as a celebrant? What did you learn about life, people, yourself etc from that moment?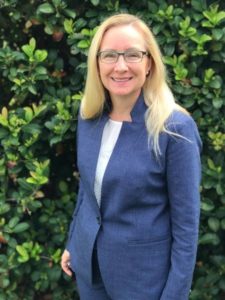 Jocelyn Williamson: I can't think of a particularly funny moment. That said, a little over a year ago I went to a local city government to speak on behalf of a moment of silence instead of an invocation. I had three minutes to put my case before the city. I spoke as did another CFFC director and a community member I didn't personally know, who was actually religious but felt a moment of silence to be appropriate. We all encouraged the city to consider the moment of silence as more inclusive. No one spoke in favor of the invocation process. But then the council members spoke. A petite older board-woman spoke for more than 15 minutes about how uncomfortable she had been for the past 9 years as a Jewish woman listening to Protestant prayers before each meeting. It was heart-felt. She shared articles and letters that supported her position. Quietly, everyone listened. I had tears running down my face as it was so moving to me.  But in the end, the council voted 3-2 to keep the invocations and everyone could give them. I have since given two invocations there and EVERY time I go, I see her and feel I am speaking for her.
UnitedCoR: If someone was considering becoming a Humanist Celebrant what advice would you give them regarding this responsibility?
Jocelyn Williamson: Like Nike says, "Just do it." Obviously performing a wedding is a responsibility, but it is not as hard as one may think.  Watch some YouTube videos. Read books on humanism until you feel comfortable with the general tenets. You can find free Kindle books on Humanism as well and there are many resources available. If you have the opportunity to attend a workshop with Humanist Society, I would encourage you to go. If you don't have one near you, reach out and see if you can help organize one in your area. You never know, there might be other people who are asking for one too.
Jocelyn, UnitedCoR truly appreciates the time you've taken to give us an interview, knowing that you have a work, life, family and community balance to consider, on top of your work as a Humanist-endorsed celebrant. We wish you all the best with your outreach in Orlando and look forward to hearing many more great things in the future.
UnitedCoR is excited to open a new series of "Celebrants' CoRner" articles, starting with Jocelyn's story. If you're a celebrant that is endorsed through The Humanist Society or Center for Inquiry, and you would like for UnitedCoR to feature you in one of our upcoming global newsletters, please email me and we'd love to hear your story!!  –Susan