When Jacob Madden heard the synagogue where his friend served as Rabbi had been vandalized, he reached out to the Cedar Valley Atheists to help with the clean-up. Vandals had spray painted crosses and the words, "Jesus Saves" on the walls of the Sons of Jacob Synagogue in Waterloo, Iowa and Rabbi Erin Maidan was looking for help cleaning it off.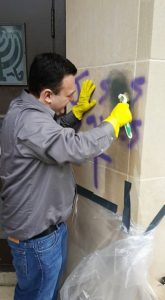 Madden posted an appeal for assistance on the group's Facebook page and that same afternoon, members joined Jewish and Christian members of the Interfaith Council to scrub off the graffiti.
This is a great example of Iowa atheists working with the faith community to stand up against a bigotry and help their neighbors. Congratulations to Cedar Valley Atheists for a job very well done!
https://www.facebook.com/Cedar-Valley-Atheists-543209492365024/