by Susan
Education Officer and National Coordinator
Over the past two years, I've been able to meet and get to know some wonderful people in local CoRs. The diversity of identities, as well as the issues that people care about, are part of what gives strength to a local coalition—no need for uniformity or conformity.
As the Women's March on Washington was drawing support, I noticed that many local Meetup events were gaining interest, and this interest then channelled into strength in numbers. Whether people marched for women's issues, made a stand of solidarity for LGBTQ+ persons, or used the march as a venue to voice their opinions regarding a line between religious belief and public policy, non-theists across America—and globally—personally stood up and were counted. I watched as people such as Adam Arrowsmith and Tanya Barrett (photographed above) from the Connecticut Coalition of Reason stood in solidarity with people like Rory Moe from the Central Iowa Coalition of Reason (photographed below), though many miles apart.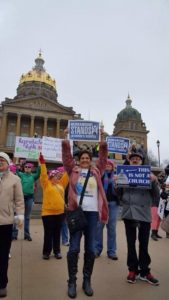 I want to thank everyone who participated in the Women's March over the weekend for taking time out of their schedules and personal lives to exercise their right to free speech in the public arena, and for supporting whatever cause they chose. Democracy allows people to have their say, but it doesn't come without a cost: giving up your time and money to let your voices be heard is only one part of that cost.
If anyone else has photographs of Women's Marches in which you and/or your friends participated, please email them to UnitedCoR: we would love to feature them in upcoming newsletters, and show your participation in your local area, as we Get United in 2017!