On the morning of the National Day of Reason, we were pleased to see that various proclamations were covered in the press, especially a state-wide proclamation in Iowa.
Let's hear from a local activist—Justin Scott—about his experiences:
I was able to provide what is arguably the first ever secular invocation at the first regular Waterloo City Council meeting on May 2nd. During the same meeting, I also accepted the Mayor's issuance of a Day of Reason proclamation for May 5, 2016 for the city. There were no protests inside or outside and all city council members present stayed for the entire invocation. (And it got written up in the Huffington Post.)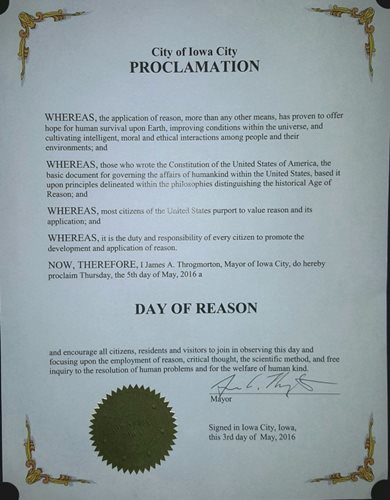 The only two issues we faced were that
the city listed "Iowa Athiests" (incorrect name and incorrect spelling) and
didn't have the proclamation included in the agenda.
There was only one objection to my invocation by a local citizen during the public comment section. Her exchange with the Mayor was pretty entertaining to say the least. She objects to an atheist giving an invocation and then asks the Mayor if I'll be delivering an invocation every week. Good stuff! (1:36:10 in the video clip).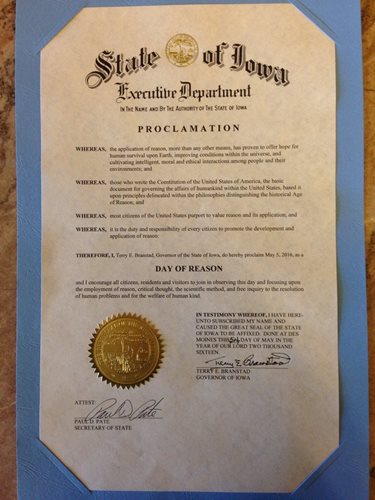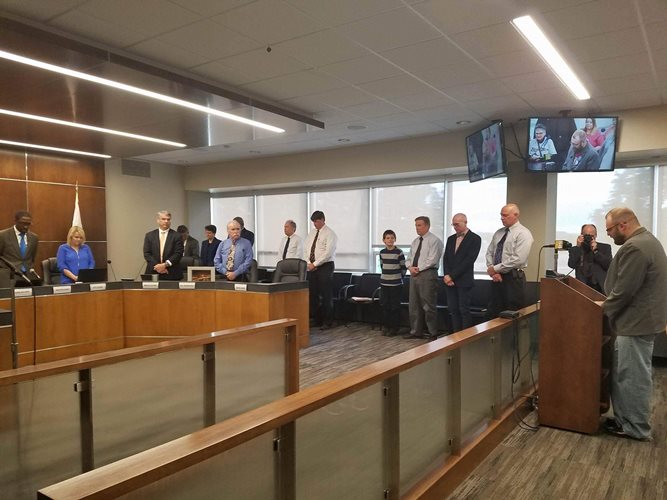 On May 3, I was invited to Iowa City to accept a Day of Reason proclamation. From the research I've done, Iowa City is now only the third city in Iowa to issue this proclamation, following Cedar Rapids and Waterloo.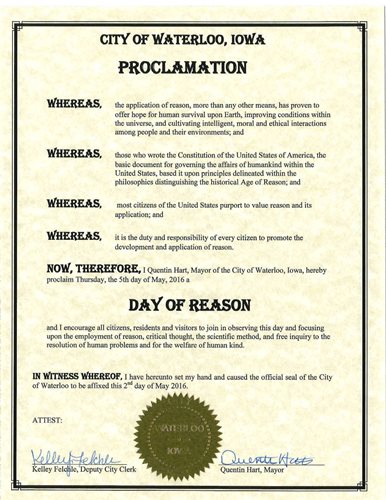 Waterloo and Iowa City were the only two cities out of 28 that I had emailed requesting the proclamation that decided to move forward. There have been a handful of cities that have refused to issue this proclamation, without stating the specific reason although informing me that they have no actual procedure in place for proclamation requests. One mayor told me they "don't want to stick their neck out there," another told me they "only like to work out of their comfort zone" on issues and another told me that they would only issue this proclamation if "20 or so other cities did it first" because their city doesn't want to "be the only one to do it."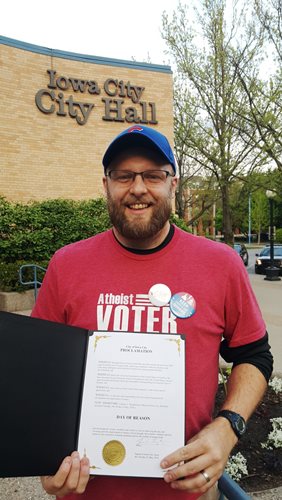 Davenport, Iowa, specifically, has been one of the most difficult to try and get onboard. Despite having issued Day of Prayer proclamations in the past (according to the City Clerk it was issued in 2008 and 2011), the Mayor declined to issue a Day of Reason proclamation. After not responding to me for nearly a month, I finally spoke to him on the phone. His initial hesitation was whether or not the proclamation had to include the word "atheist" and that because two out of the 10 council members objected it, the proclamation was considered "controversial" and "would require a majority vote of support" from the council.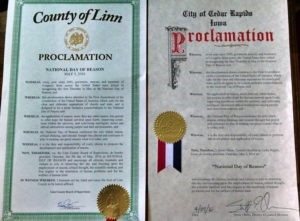 One Davenport council member even suggested that next year I "collect signatures in support" of my proclamation despite the fact that the City Clerk, who has worked in the office for nearly 30 years, advised me that no other group has ever had to collect signatures to have a proclamation be issued.
Thanks for letting us know about the work being done in Iowa! With Central Iowa CoR helping secure the State's proclamation and the Humanists of Linn County receiving proclamations from the City of Cedar Rapids, plus the Linn County Board of Supervisors, Day of Reason has certainly been a positive experience in Iowa this year. Congratulations to all of you!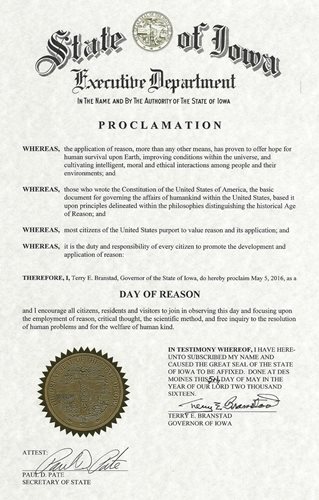 If you ever wonder what kind of a difference local people make, we were pleased to receive this email from someone in the Houston Coalition of Reason on May 11:
UnitedCoR's Executive Director,

I came to your website because of the invocation Justin Scott gave that made it to national news outlets. I'm not on Facebook, so I couldn't find a way to email Justin. If you have access to his email, I would be most grateful if you would forward.

Thanks to you and to Justin for promoting a secular point of view. I feel so alone at times because I am surrounded by (mostly) Christians and an ignored or reviled because I abandoned my religious upbringing.

Justin—your invocation was beautiful! The words and sentiment were inspirational; thank you for bringing your message to the public. How fitting that you championed diversity and tolerance at a time when some political leaders are vocal AND SHRILL in their hatred of anyone who is different or does not believe in their world view of a U.S. theocracy.

Thank you on behalf of myself and the millions like me.

Karen 
 Also, check out the good news coming from Colorado CoR: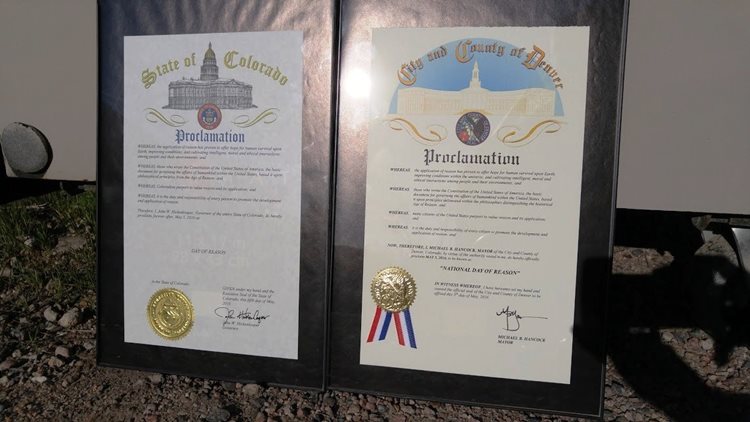 I am proud to announce that May 5th was proclaimed the Denver and Colorado Day of Reason! That's right, the Secular Hub, through the persistent work of Director Ruth McLeod, has been granted these proclamations for 2016!

This is the 3rd year in a row the Secular Hub has received a citywide proclamation signed by Mayor Michael Hancock but this is the 1st year we have also received a State-wide proclamation signed by Governor Hickenlooper!

Dave Fangrow