by Melissa Pugh
Grassroots and Outreach Coordinator–United Coalition of Reason
I enjoyed being able to attend the Muslim-American Leadership Alliance (MALA) Scholarship Dinner as a representative of United Coalition of Reason on November 2, 2016 in Chicago, IL. I attended a dinner with Sean Fracek and Fritz Blandon of Mythicist Milwaukee that proudly presented scholarships and awards from President Barack Obama to many Muslim-American students and sponsors.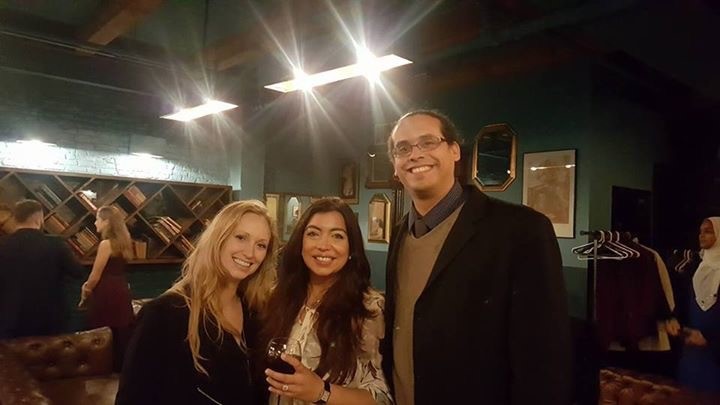 According to MALA's mission statement, it is a civil rights organization committed to promoting individual freedom and celebrating Muslim-American heritage. An alliance dedicated to leadership through integrity, MALA provides a platform for Muslim-Americans to share their stories, nurtures emerging community leaders, and unites Americans of all backgrounds to advance constructive solutions to extremism and human rights abuses. They embrace free expression, gender equality, and pluralism as cherished universal ideals—and recognize the United States as one of the best countries in the world to be Muslim because of our country's core values.
MALA's Chair—Zaniab Zeb Khan—is no stranger to activism. She was born in the U.S. to Asian immigrants and became an activist after experiencing stories of survivors of domestic violence in her occupation as a therapist holding a Master's Degree in Clinical Psychology. She co-curated the International Museum of Women's exhibition "Muslimah: Muslim Women's Arts and Voices" and served as a delegate to the United Nations Association to the 59th Commission on the Status of Women. As the Chair and the 2016 UNICEF'S Inaugural Humanitarian Award from President Obama, Zaniab is an impressive and inspiring woman for all Americans to look up to. She is vivid and gracious, and on behalf of United CoR, I cannot wait to work more with her and her group in the future.
In 2015, Ahmed Flex Omar, a native of Somaliland, co-founded MALA and was a delegate at the 2015 United Nations NGO Conference. He immigrated to Chicago from the United Arab Emirates as an adult. He overcame the stigma of extremism in his own family with an uncle as a cleric to Al-Qaeda and has worked for Fortune 500 companies: UBS Wealth Management Group as well as American Express. He dedicates most of his free time to activism against extremism on all fronts and helping his sisters attend college.
The dinner itself was lovely, with approximately 50 attendees of all backgrounds celebrating the awards given to our Muslim-American brothers and sisters. It was such an intimate and fun event that they made sure that Game 7 of the World Series was on T.V. for this Chicago-based organization's many Cubs fans, although it cut the speakers from the entertainment portion of the schedule (that's O.K. because the Cubs won!). It was quite the experience meeting and mingling with such inspiring activists as Faisal Saeed Al Mutar, fellow Advisory Board Member of Muslimish, Zanaib, Ahmed, and many other very influential, young award winners who will take their places in the world after their journeys through college and Muslim-American activism.
For more of their inspiring stories, and there are many, please visit their website, www.MALAnational.org. You can also follow MALA on Twitter, and be sure to check out their Facebook page for more details of their upcoming events.