by UnitedCoR's Education Officer and National Coordinator, Education Officer and National Coordinator, United Coalition of Reason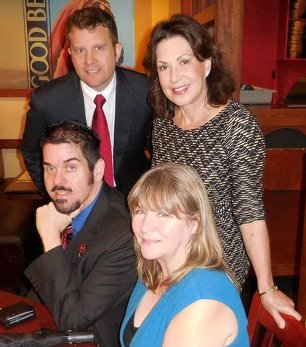 This was the first time that I celebrated Veterans Day in America, and with the upcoming Presidential election, I was ready for the release of polemic memes in an attempt to appeal to the women and men who are serving or had served in the US armed forces. What I didn't expect was to witness, first-hand, how openly secular and nontheistic veterans would be shunned for publicly expressing a disbelief in deities.
It was UnitedCoR's privilege to attend the first-ever "Atheists in Foxholes—Reuniting the Captain and the Chaplain" event, sponsored by one of UnitedCoR's founding cooperating groups—The Freethought Society—in West Chester, Pennsylvania. In the morning of November 10th, Margaret Downey (President of The Freethought Society), Jason Torpy (President of the Military Association of Atheists and Freethinkers), UnitedCoR's Executive Director and I made our way to the Chester County, PA courthouse. As we drove to the courthouse, we had to get past a group of angry demonstrators who were attempting to block the entrance of the local Planned Parenthood facility. (I remember thinking to myself that, in the UK, we don't have people waving banners filled with Bible verses, shouting at patients—some of whom only wanted to purchase birth control products—or attempting to prohibit an ease of access to the facility.) We were on our way to present a simple request to the Commissioners of Chester County: repeal Resolution 58-10, which they were arbitrarily using to determine which holiday displays they would choose and allow on the courthouse lawn.
Margaret was already well-known in Chester County, as she and one of her colleagues had previously pressed for the removal of a Ten Commandments plaque from the historic courthouse building. After she addressed the Commissioners and informed them that secular displays such a plastic Santa Claus, candy canes or elves didn't properly recognize or reflect the beliefs of nontheistic communities, she then introduced Jason Torpy to the people assembled. UnitedCoR's Executive Director spoke of his appointment to West Point, his commitment to military service, tours of duty including Iraq, and as an appointment as a U.S. Army Officer. Speaking on behalf of the military atheists that he represented, UnitedCoR's Executive Director described that equating the commercialism of the winter holiday season with secular values was an insult and that the commissioners should reconsider Margaret's request to display a Tree of Knowledge on the courthouse lawn. UnitedCoR's Executive Director then introduced UnitedCoR's Executive Director, who had already written to the Commissioners last year, and after the absence of reply, he then wrote about the situation in TheHumanist.Com. UnitedCoR's Executive Director informed the Commissioners that there were nontheistic constituents from both Philly CoR and the newly-forming Delaware CoR who felt unwelcomed to attend this kind of public meeting, and that by continuing to discriminate against secular symbols such as the Tree of Knowledge, they were only relegating the nontheistic community to second-class status. (Despite the representation provided from Margaret, UnitedCoR's Executive Director and UnitedCoR's Executive Director, the Commissioners chose to ignore the request and issued Margaret with their reply on November 16th that Resolution 58-10 would remain in force.)
On Veterans Day, we assembled on the courthouse steps of the historic Chester County Courthouse to hold the Veterans Day event. People from Delaware, Philadelphia and the surrounding areas, including UnitedCoR's Chair of the Board, assembled in West Chester on a misty morning to pay their respect for veterans who risked their lives to defend America and her allies. Some local people weren't pleased with the visibility of the "Ask An Atheist" booth, as they honked their horns and shouted things like "Praise the lord!" as they drove past. (During UnitedCoR's Executive Director's address, a delivery truck from Wilkes-Barre stopped and the passenger rolled down the window and gave UnitedCoR's Executive Director the middle finger. UnitedCoR's Executive Director took it in strides, though, and said over the loudspeaker, "Hey, thanks for that! Ok, turn left at the traffic lights and Wilkes-Barre is in the north.") At the event's conclusion, some local people stopped by the information tables set out by UnitedCoR and The Freethought Society, and had pleasant conversations with the participants about nontheistic ethics and issues facing nontheists in the military today.
There is one memory from that Veterans Day morning that I will never forget. A group of disabled veterans assembled at a simple and respectful monument that they had helped to have erected on the courthouse lawn. There was no mention of beliefs or ideologies on the monument: just an expression of appreciation and support for disabled veterans who returned home and had an additional challenge of overcoming these disabilities in civilian life. But it wasn't the monument that captured my attention: it was how Jason Torpy was shunned by most of the veterans at the monument. UnitedCoR's Executive Director reached out to the group, mentioning his West Point training and his service in Iraq, and yet when they read his cap that said "Atheist American," that was the conversation stopper. But within that group of disabled vets, one gentleman wasn't ashamed to associate with us and he proudly stood alongside everyone who came to the Veterans Day event and had his photograph taken with us to honor his friends and other disabled veterans at the monument.
To show my appreciation to America's vets, I sent some British toffee to various deployed ships, thanks to the civilian outreach and support programs sponsored by MAAF. UnitedCoR is grateful for local groups around the country who remembered and celebrated the women and men of the armed forces this Veterans Day. From the event held in West Chester, PA to a Student Secular Alliance group near Sacramento, CA who held a "Walk a Mile in Their Boots" event, to the MAAF San Diego group who took their photograph near a "No Atheists in Foxholes" display at the Navy Base—San Diego, we appreciate your support and recognition of nontheists in the military.