What is UnitedCoR?
At United Coalition of Reason we aspire to a world where secular ideals are treated with respect and dignity. We are committed to promoting science and reason, nurturing unity and developing cooperation within local communities. We donate time, resources and cutting edge technology to help a variety of local nontheistic groups grow their presence, expand their outreach and present a positive face for nontheism by doing good together.
Each group in our "community of reason" rejects the supernatural and loves rational thought and science. We call ourselves atheist, agnostic, bright, Ethical Culture, freethought, humanist, Pastafarian, rationalist, realist, skeptic, secular, and other terms.
We respect your privacy! Each of our groups is a safe zone if you have not told your friends and family how you feel about religion.
What is the Mobile App?
Through our mobile app, you can find skeptic, humanist, atheist and other secular-friendly events in more than 50 metro areas around the world. We also have plans to add more cities to the app!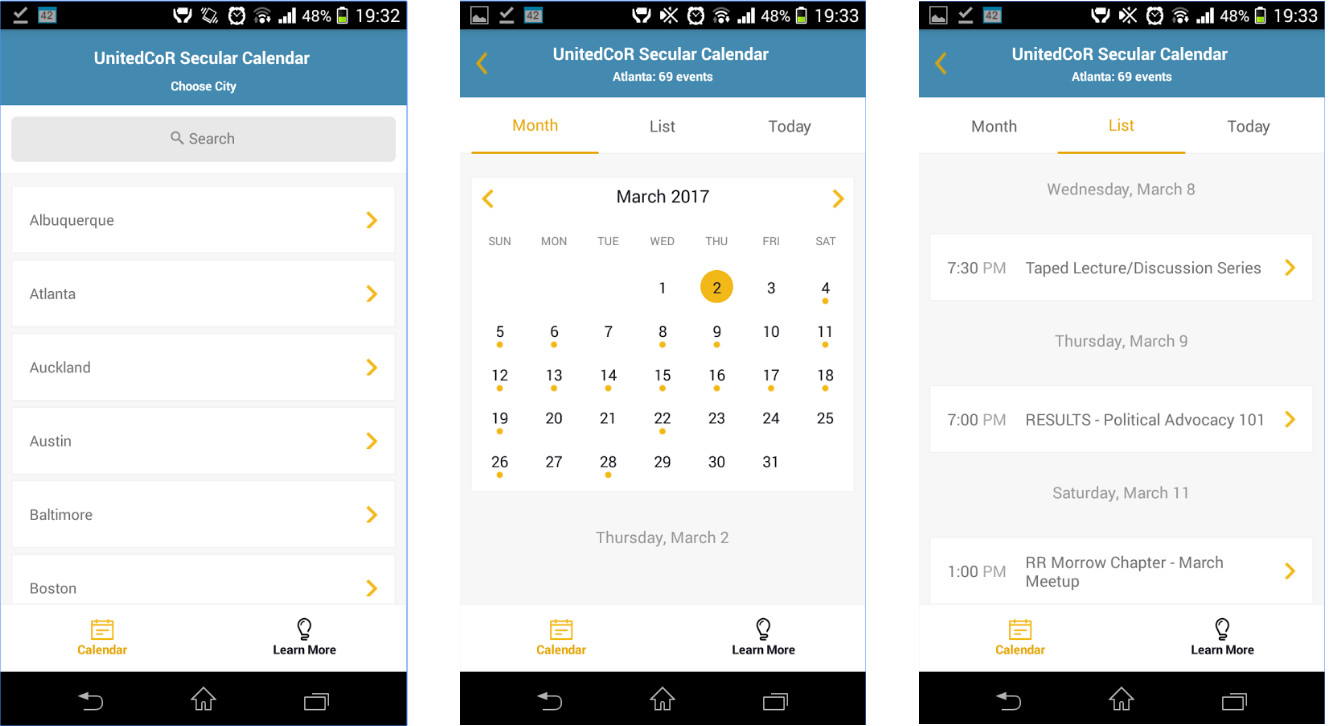 How to Get the App
Download it from either the Google Play Store or from iTunes, below.
How to Use the App
This instructional video will show you how to use the app. You'll find secular events all over the world!
Please note: UnitedCoR simply lists these events. Our local events are managed by local CoR groups and others' events we do not officially endorse or manage at all. Because listings can change, please check the date, time, location, and other information of events you plan to attend.
Frequently Asked Questions
How will my organization use the app?
Just publish your events on meetup.com or Google Calendar and the app will find them automatically. For major events we can also type them in manually.
What if my group isn't listed?
Email us at the address below and send us hyperlinks to your group's pages or Google Calendar. It's free to add your events…all we need is your permission.
Will the app help people new to the secular movement?
Certainly, by putting them in touch with hundreds of local groups with local events, and also regional, national, and international events.
Will the app grow my group's membership?
Yes: just like Google, we send traffic to you. Users don't get stuck on our app. Instead, we send them through the app to your events webpage.
Or users can also touch "Learn More" in the bottom right which sends them to the UnitedCoR website and from there to all of our CoRs and affiliate groups.
We make it easier for potential new members of your group to see what is happening in their areas and take a chance by going to a new group and new place.
Do people have to share their personal information in order to use the app?
No: No sign up is required. The app can be used without giving any email or username. Although the app only looks to include safe and relevant links, users are advised to adopt a policy of caution when using social media platforms to communicate with others.
Contact
Questions or comments? Email Susan at [email protected].