by Jase
Executive Director–United Coalition of Reason
It was a sweltering day in San Antonio for Father's Day, and we were scheduled to be the guest speakers at a weekly religion-focused "extracurricular" activity at Lackland Air Force Base that is sponsored and led by non-theists. We stopped near a local H-E-B grocery store and parked the car before meeting Vicki Gettman and her husband Jed at the gate. It was a wonderful reunion with Jed and Vicki, as I'd not seen them since the American Humanist Association's 2016 conference in Chicago, where Vicki was presented with the President's Award. "You're in for a treat, Jase" Vicki told me as she climbed into our car. "If it's like usual, you'll have trainees and graduates lining-up for our program even now and we'll see them as soon as we enter the base." As we entered the Base, the three of us talked about Vicki's and Jed's experience serving overseas in the US Army, especially their experiences with various chaplains—some of whom were effective with ensuring the free exercise of sincerely-held beliefs for non-theistic soldiers and sailors, and some who ignored their responsibilities towards non-theists. These past experiences are part of what inspired Vicki and her large team of volunteers—some of whom drive about 2 hours from Austin, Texas—to come to Lackland each week.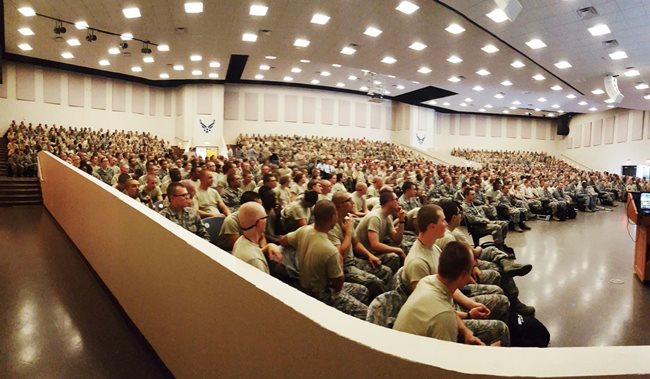 I already knew that the team of volunteers were popular and that they were setting records at the base, but I was not prepared for what we experienced. No sooner did we park the car, we could see the trainees lining up at the door—prepared to stand and wait for an hour in the baking hot Texas sun, just to get a place in one of the 1,000 seats in the auditorium. I met with Cherri Pitts (South Texas Atheists for Reason) and Phil Session (co-host of The Atheist Experience in the Austin Coalition of Reason and a founder of the Austin Atheists Helping the Homeless) before we were scheduled to start, running through our program. The team of volunteers had something for everyone, ensuring diversity and a place where everyone belonged: "ground rules" to ensure that nobody made fun of each others' beliefs, "spirit animal" cheers to connect teamwork and a sense of individual belonging, clips of upcoming films, video game reviews, and an inspirational video from Dr. Neil deGrasse Tyson. We set up my presentation, talked through the day's program, and then the doors were opened…
The auditorium could hold 1,000 people per building safety regulations, and we packed it to capacity! This wasn't surprising to Vicki, as the volunteers have seen this happen each week, and although they've asked the base command to allow them to have two services in order to accommodate everyone's needs (after all, part of a military chaplain's responsibility is to ensure that the "free exercise of religion" is available to everyone—including people with secular viewpoints and philosophies), for some reason, these requests are still on hold. (To put it into perspective, the base's chapel has a regulation capacity of 500, so it's safe to say that the chapel's services are being overshadowed by the secular-friendly outreach being conducted.) Once we had the final count, we started the program.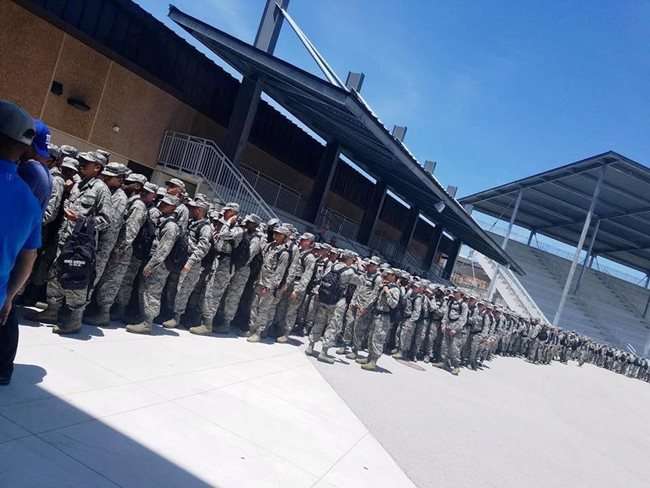 The program began with celebration: celebrating the accomplishments of the new "graduates" who were no longer trainees, but had earned their commendations and stripes. We passed a microphone down to allow the graduates to have an opportunity to introduce themselves as "Airman" to their friends and comrades. The graduates also had the opportunity to describe their sincerely-held beliefs and why this particular program at Lackland AFB was important to them. Although the Military Association of Atheists and Freethinkers and The Humanist Society are connected to the program, NOT ALL of the trainees and graduates were non-believers! In fact, several identified as Christian, a few were Muslims, and some were "spiritual but not religious". So why were they there? As one graduate noted that although she had a lack of religious belief, through the meetings, she felt as if she had the opportunity and place to reflect on her own values, and now wishes to identify as a Humanist. Another graduate spoke fondly of the program, explaining that chapel services didn't really appeal to his experience and understanding of religious pluralism, and that even though he was still a religious believer, he felt as if the humanist values of being inclusive and not proselytizing better suited him. Despite how the trainees identified themselves, there was a unifying element in how the meeting was conducted and presented: all belong, and all are afforded the respect and opportunity to be themselves and have confidence in expressing their beliefs—whatever they may be.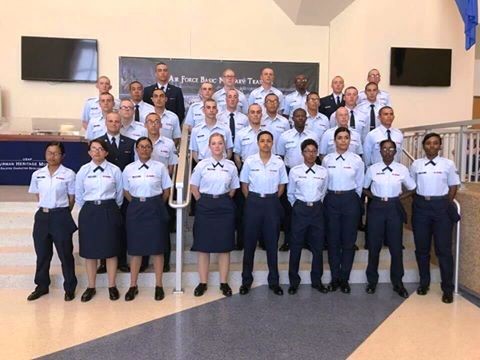 I was proud to watch the graduates speak to their friends and also to the parents who were part of the meeting. As they filed past me to their seats, I got a few high-five's from the graduates, and you could sense the team spirit in the room as the trainees applauded the people who were now to be called "sir" and "ma'am". When it was my turn to speak, I wanted to ensure that those in attendance understood that I was approaching the meeting from the perspective of a Humanist Society-endorsed chaplain, and that there was a certain code of ethics and expectation placed on me that I took seriously. We also understood that we were there to celebrate life's opportunities and to reflect on experiences as coming out as non-theists to our friends, family members—even people close to us (such as the military). The trainees and graduates understood that I was also viewing our time together from the perspective of ensuring that everything they do is to prepare them for mission readiness and unit cohesiveness, hence reiterating the need for creating a space where everyone was welcomed and respected.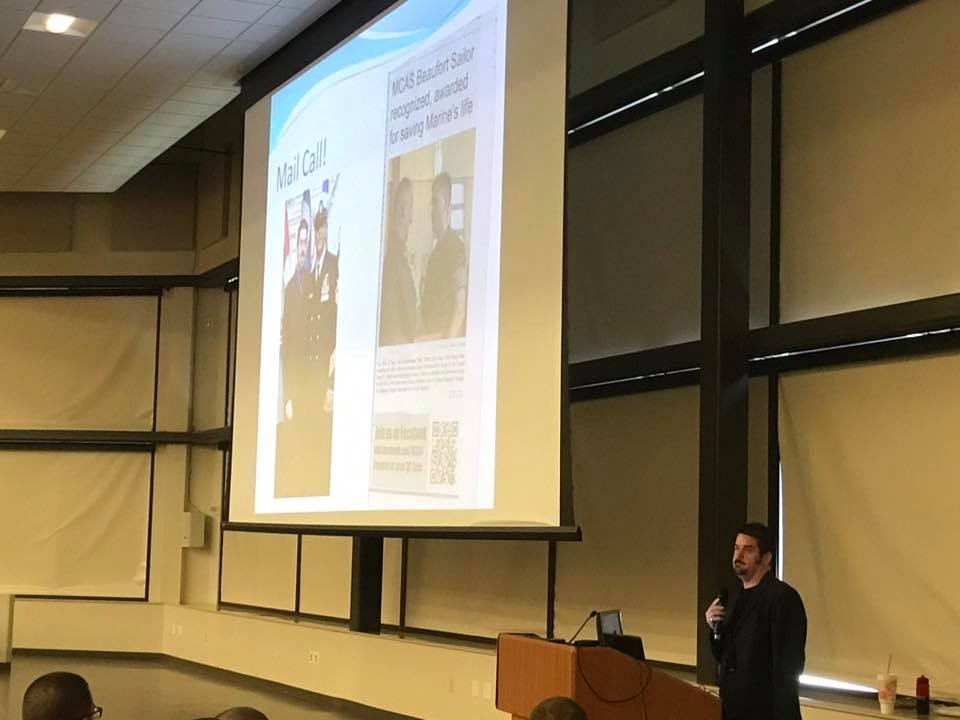 A central theme in our discussion was the need for community and that everyone in the capacity crowd who identified as non-theist or even secular-friendly didn't need to feel alone. They heard about Major Ryan Jean's work to have humanism recognized by the Army. I told them of the sense of morals and bravery exhibited by Petty Officer 2nd Class Todd Kregel last October, as he helped save the life of a Marine. Everyone learned of Chief Petty Officer Doug Wright's retirement ceremony, and his decision to have humanist readings and values reflected during that honorable occasion. Tying everyone into a global family of non-theism, Col. Erwin Kamp—Chief of Humanist Chaplains of His Majesty's Royal Dutch Marines—wrote a special letter to the folks at Lackland AFB:

On June 21st,  we will celebrate World Humanist Day. In the Netherlands, we're organizing a gathering about inclusion. I want you to let you know that in The Netherlands we have now for more than 53 years a Humanist chaplaincy. Besides the Protestant and Roman Catholic services, we are one of the three biggest chaplaincy services (the Humanist Services has 38 Chaplains!).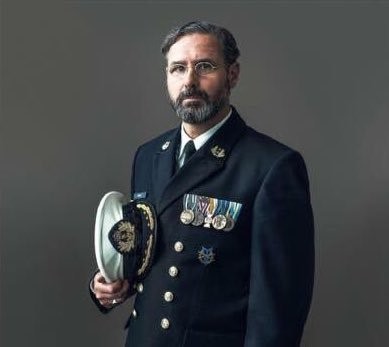 My colleagues and I work close together with military from the US. Last year, on a visit Jordan, we had a meeting with seven military forces. Also on my tour of duty to Ethiopia/Eritrea, I spoke to many soldiers that are interested in my service as a Humanist chaplain. 
I want you to let you know that I support your work in San Antonio and have been watching what you've been doing for a long time now. I have the deepest respect for what you do. On Memorial Day we laid a wreath on the American Cemetery in Margraten as the Head of Service of the Humanist Chaplaincy; this was to honour American troops as a NATO ally to us here in The Netherlands.  
Keep on with your good work and receive my kindest regards from The Netherlands.
As people were leaving the Sunday meeting, there was still a vibrant atmosphere amongst the attendees: clearly, something resonated with their experience and viewpoints, and I attribute a lot of this to the atmosphere and care that was created and provided by the volunteers' dedication. I am also pleased that Vicki and her friends were happy to share their program notes and curriculum with UnitedCoR; we will soon list it on our Resources page, and we'd like to encourage anyone who is interested with creating a military outreach to check back with us to learn more.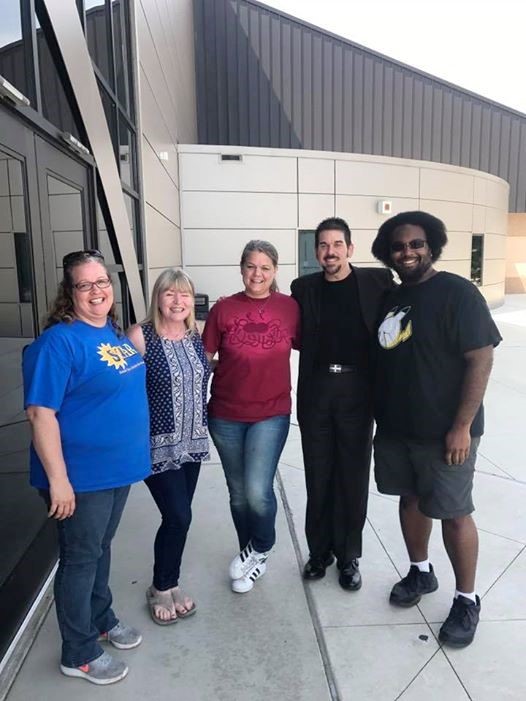 I'm certain that, by now, we've all heard the usual objections to non-theists being visible in the military: "They won't swear 'So help me God' in the oath," or "the motto is 'For God and Country,' which means they're disqualified," or "unit morale will be low if they're in there," or even "they don't believe in anything, so why would they want to have chaplain support?" For those people who would continue to pretend that non-theistic members don't exist, they should look closer at the growing number of folks who are either non-theistic and secular-friendly in the military. For those people who would suggest that having open non-believers in the military would destroy unit cohesiveness and/or morale, they should look again at the comradery and sincere respect that everyone showed each other at Lackland AFB. For those who suggest that non-believers don't need chaplain support, turning away over 300 trainees clearly demonstrated that the need was higher than demand.
"No atheists in foxholes?" Seems to me like they're all over the place…