by UnitedCoR's Executive Director
Executive Director, UnitedCoR
On the comedy show Rowan & Martin's Laugh-In, co-host Dick Martin used to joke that he had a "black belt in Gotcha!" that would set off a series of one-liners and situations that allowed him to reply with "Gotcha!" I think I must have taken some lessons from that show, given the flood of media surrounding the atheist displays in the Nebraska capitol the past few weeks, as the black belt in "Told You So" is nearer to my reach.
In a previous UnitedCoR newsletter, I highlighted the angry response that I received when an FFRF poster was placed in the capitol rotunda after the Thomas More Society (a "national public interest law firm") erected a crèche. This is only part of the story, as earlier on the day of December 23, 2014, I forwarded that angry email to the office in the Nebraska capitol that was responsible for approving the application for the crèche, and also extended my concerns through an email:
"I am writing to you in response to a situation that was reported to me regarding the first ever display of a nativity scene in Nebraska's capitol building. Having read news reports, please allow me to explain my concerns.
Earlier this month, a local non-theistic coalition in Arlington Heights Park District (Illinois) was the victim of a hate crime, in which they experienced vandalism. After reading Mr. Scholten's quote in the newspaper, I immediately wrote to him and said: "I am also highly concerned to have read from Mr. Cara's letter that the Illinois Nativity Scene Committee—part of the greater organization of the American Nativity Scene Committee—was allowed to pressure your district. My concerns are inclusive rather than exclusive. For instance, if our Sikh friends were to have a Vaisakhi parade next April, would the district approve or reject their application and any displays they wish to erect? If our Muslim friends wished to display messages for "Eid Mubarak" or "Ramadan Kareem," would they be allowed to do so, or would the district frown on this? Would the district welcome our Hindu friends' celebration of Holi next March or Diwali next November? Furthermore, from the photographs I have seen of the winter display there in Arlington Heights District Park, I have noted that there were no displays for Rohatsu, Winter Solstice, Festivus, Pancha Ganapati or a holiday that I celebrate—Human Light. Therefore, I question the inclusivity of your district's consideration, when publicly-accessible census data clearly shows that your community is diverse. These questions that emanate from my concerns have real and long-lasting public implications for how the District's welcoming of people of sincerely-held beliefs will be viewed."
The concerns that I raised in Arlington Heights Park District are now raised with you. Having read the websites for the Thomas More Society and the American Nativity Scene Committee, I am not able to immediately sense from their self-description that they are concerned about the religious liberty of everyone in the community, but rather, to serve limited interests. I have consulted recent census data for the state of Nebraska and it was of no surprise to me to find a rich diversity in sincerely-held beliefs. However, from the news reports, this year was the first time in Nebraska's history where it allowed an erected private display of expression on the premises of the publicly-owned state capitol. The point that the Freedom From Religion Foundation made with their follow-up poster showed that they disapproved of this decision, and preferred things to remain the way that they were prior to this decision: no signs, symbols, statements or artifacts that gives the impression of governmental endorsement of any particular belief. I also believe this is the same point that the Honorable Senator Ernie Chambers has made.
The decision to allow this nativity scene also raises some other important questions for me. Was it critically necessary to herald the nativity scene with an organized and publicized service of carols and to have it receive an episcopal blessing along with a prayer from The Most Reverend James Conley, Bishop of Lincoln? I am certain you can understand why some people would come to the conclusion that this was an overtly Christian act (non-Protestant, for that matter), and not something done to celebrate diversity of belief. Had there been a menorah erected by our Jewish friends, how might they have felt? And why wasn't there a menorah at the display? Why didn't someone ask the humanist community to put up a display for Human Light? There is also no mention of Bodhi Day/Rohatsu, and yet there are Buddhists of many "branches" who live in Nebraska…why weren't they allowed to participate? Furthermore, what will your decision be next year if our Muslim neighbors wish to place a sign that proclaims Eid Mubarak, or if our Sikh friends wish to hold a parade celebrating Vaisakhi, or for our Hindu friends who may wish to celebrate Holi in front of the capitol? The decisions made regarding a nativity scene in the Nebraska capitol has long-reaching effects, not just something that will be felt during winter holidays."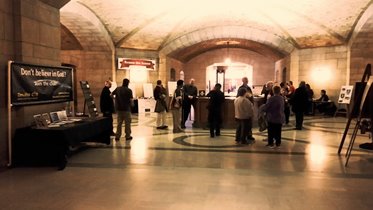 Senator Ernie Chambers' opening address at the 2015 Nebraska atheist display provided words of reflection for me: "Everybody is entitled to his or her opinion, but not everybody's opinion has the same worth and merit…There are some things we will always have only an opinion about because we'll never get the final answer. But if it requires study, thought, research and other activities of the mind to arrive at a reasonable conclusion, and somebody else has done none of those things, that person's opinion is not as good as yours. You waste your time trying to get them to understand anything because it's like me butting my head against that wall, when the wall doesn't care." As I don't completely understand all that happened with the pressure that was placed on the decision-makers in Nebraska in 2014, I believe the subsequent display that was placed in 2015 by Omaha CoR is just the beginning of many long-reaching effects that will come from a decision to allow winter displays into a capitol building where none had been placed before. For me, it is a matter of equal opportunity for free expression that we are seeing on the rise which hasn't always been met with equal consideration and respect. From the LGBTQ Festivus pole that was destroyed on the capitol grounds in Olympia, WA to the Connecticut Valley Atheists display that was vandalized for the first time in nine years, unwarranted bigotry towards non-theists is an indication that free expression isn't welcomed as an inalienable right for everyone to enjoy. Now that certain doors have been opened to one sincerely-held belief group, these doors must also be held open for everyone else, and this is the unforeseen consequence that I wrote about to Omaha in December 2014: Told you so.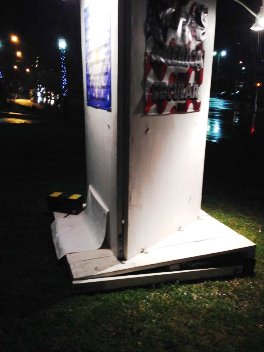 Have you also noticed the professional-looking tables that Omaha CoR had on display in the rotunda? These are the kinds of things that we have been trying to help provide to local CoRs through our fundraising campaign, and they make positive impressions on the public who sees it.