Homeless Shelter Winter Garb Drive and Solstice Celebration
The Humanist Community of Central Ohio (HCCO) is collecting winter-wear items to donate to the Columbus Open Shelter at their annual Winter Solstice Celebration on Saturday, December 12th.
Come join us for our annual Winter Solstice Celebration at the Whetstone Shelter House in the Columbus Park of Roses from 11AM-3PM on Saturday, December 12th. THE HOLIDAYS ARE A TIME OF GIVING AND SHARING! Please join me in donating winter-wear items to the Columbus Open Shelter. Needed items are coats, jackets, hats, mittens, gloves, scarves, earmuffs, and boots. Unused socks, underwear and toiletries are always accepted.

DROP OFF YOUR DONATIONS AT THE HCCO WINTER SOLSTICE CELEBRATION ON SATURDAY DECEMBER 12 or contact Doris via meetup or Facebook messaging for other arrangements.

THANK YOU FOR YOUR HELP KEEPING THE HOMELESS WARM THIS WINTER!
The event will feature a talk by Edwin Moise titled Don't Throw the Baby Out With the Baptism Water — What Humanists Could Possibly Learn from the Church.
Annual Xmas Eve Alternative
Dawn Owar has invited the secular community to the "7th Annual Gathering in a Bar for People who Don't Celebrate or Aren't Celebrating Christmas" on 12/24 and Omnipresent Atheists (OA) is advertising it. [The editor has been to the last four such events and had a great time.] See details and RSVP on Facebook.
Volunteering at Ronald McDonald House
The Columbus Ronald McDonald House (RMH) provides housing and meals to families with hospitalized children. Central Ohio United Non-Theists (COUNT) has been working with RMH since 2013. Children's science books were collected on Darwin Day and donated that year. Volunteers started working as Housewarmers in May 2013 and 11 have worked a total of 629.4 hours as of November. RSVP for events on 1/3/2015, 2/7/2015 or 3/6/2015.
Serving Meals at Van Buren Drive Homeless Shelter
Central Ohio United Non-Theists (COUNT) has been building this volunteer activity since January. Volunteers work from 5:30 – 8:00 PM serving dinner and cleaning up and typically then join the Omnipresent Atheists (OA) meetup at Hampton's in progress for dinner, drinks and conversation. 13 events were held in 2015 with 35 participants. The number of volunteers needed to staff the entire shift has grown from 5-7 to 15-20. At the September Columbus CoR meeting, COUNT invited other Columbus CoR groups to have joint events. On 12/8, COUNT had their first joint event with HCCO and had 10 attendees. Signup for upcoming events: 1/12/2015 at COUNT or HCCO, 2/9/2015 at COUNT or HCCO and 3/8/2015 at COUNT or HCCO.
CFI – NEOhio's Secular Summit
Join The Center For Inquiry (CFI) Northeast Ohio for the fourth annual Secular Summit on Wednesday, February 10, 2016.
Unhappy with the number of laws restricting women's rights? Feel like too many laws are infused with religion? Want to feel like more of the civic process? Feel it is time your General Assembly members understand where we are coming from as Secularists? Join us for a day of training, a statehouse tour and speakers followed by meetings with your State Senator and Representative.
RSVP at CFI Northeast Ohio's Facebook event.

Mid-Ohio Atheists Earns a Gold Star
Although it's too cold in Ohio to even think about cleaning up litter right now, it warms our hearts to report that Mid-Ohio Atheists (MOA) has been designated a Gold Star Group. A sign has been added to their Adopt A Highway sign recognizing 5 years of "faithful" highway cleanup.
MOA cleans up a 2 mile stretch of Interstate 71 near Route 13 near Mansfield. COUNT works with HCCO on a 2 mile stretch of 270 on the North side of Columbus. Clean up events for both will be scheduled in the spring.
Reason Rally Reservations
Another Reason Rally has been scheduled for June 4, 2016. Ask anyone who attended the Reason Rally in 2012 and they'll tell you what a great event it was. Reservations are being accepted for "red-eye" bus transportation to and from the National Mall in Washington DC at rallybus.net/reason-rally/. Details about the event are at reasonrally.org. You can sign up on an e mail list there to receive announcements.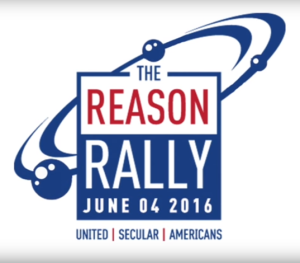 HCCO, MOA, COUNT and OA are members of the Columbus Coalition of Reason.
Columbus CoR Pages