by Susan M. Corbett
Education Officer and National Coordinator—United Coalition of Reason
When Focus on the Family paid to advertise a "Bring Your Bible to School Day" in the Folsom Cordova Unified School District, the organizers for the Sacramento Freethought Day (SFD) immediately took action…not to complain, but to use the school district's email advertising policy to a secular advantage. FoxNews40 reported  that SFD was established to celebrate the separation of church and state, as well as religious freedom for all.
SFD was held on Sunday, October 11, and combined the fun and atmosphere of a fair with the education and activism of a conference. As always, it was held on the steps of the California State Capital Building in Sacramento, providing a visible reminder to everyone that the nontheistic community was proud to be seen and heard. The unseasonably warm, sunny day made organizer David Diskin confident that attendance would be good, and with NINE CoRs represented at the event, it was a day to remember! SFD also united with Sunday Assembly—Sacramento, and with the joyous singing of the famous Beatles' song, "With a Little Help From My Friends," the 14th annual Freethought day was off to a rousing start.
This year's speaker line-up also added a broad range of interests and perspectives to the event. The main speakers for the day started with Jason Torpy from the Military Association of Atheists and Freethinkers (MAAF), who spoke of his own experience as a U.S. Army captain who experienced proselytizing from his superior officers and helped the attendees understand how they could practically reach out to the military communities in their local area. Mandisa Thomas, President of Black Non-Believers, Inc. and Coordinator for Atlanta CoR raised awareness of the need for more African-American nonbelievers to make their voices heard, especially in light of recent polls that reflect that the "historic Black churches" are retaining their membership, despite a rising trend in those who express no religious preference. (By the way, next year is an anniversary year for Black Nonbelievers!)
United Coalition of Reason's executive director, UnitedCoR's Executive Director extolled the historical significance of the founder of Rhode Island colony, Roger Williams, who ensured that all sincerely-held beliefs were allowed to be free to be themselves in his 1636 colony—including "the most paganish, Jewish, Turkish, or anti-Christian consciences." Tom Manger, state chapter coordinator for the Secular Coalition for California, highlighted not only how local people can get involved in the political lobby efforts of the Secular Coalition for America, but he also showed how certain bills were being defeated, due to the combined work of secular lobbyists.
During the day, Camp Quest's Executive Director, Amanda Metskas, came along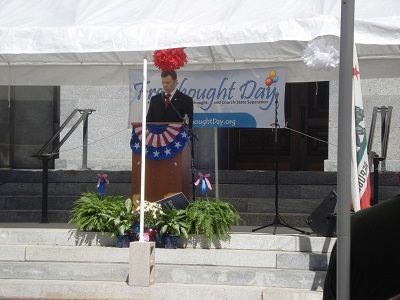 to talk about the importance of secular communities for families. Camp Quest has developed summer camps, where children can explore, think for themselves, connect with others of like mind in their communities, and make the most of life for themselves and others. She also brought reinforcements and lots of fun activities for the families who attended SFD with children. There were also tables with information from national associations, bloggers and authors for attendees to browse, in addition to a panel discussion that included Elbe Spurling, creator of The Brick Bible.
All in all, the Sacramento Freethought Day was a tremendous success and an enjoyable event for everyone who participated. We are grateful to David Diskin and his strong team of volunteers for putting on a fabulous concert. We also wish to express our gratitude to CHP Commissioner Joseph A. Farrow and his team of peace officers for ensuring that the event was held in a secure and safe environment. Thanks goes out to everyone who attended—especially from CoRs are far away as Reno, Butte County and Inland Empire (6 and ½ hours' drive)!