Welcome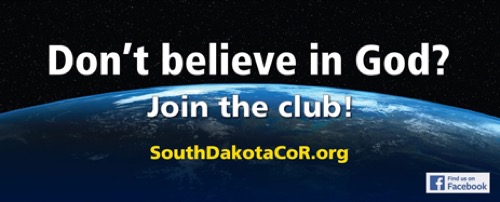 If you don't believe in God, you are not alone. Hundreds of your neighbors in South Dakota feel the same as you do.
The South Dakota Coalition of Reason is a collaboration of local organizations who share a worldview grounded in reason over superstition. South Dakota CoR brings together atheist, skeptical, and secular organizations in our state to provide individuals with information, support, and a sense of community. Additionally, South Dakota CoR gives organizations and their individual members a way to combine their voice with others who are ready to move society forward with a firm reliance on reason and humanity.
Members of our community and student organizations self identify as atheist, agnostic, humanist, freethinker, secular, skeptic, non-religious, rationalist, empiricist, and more. Like everyone else, we also benefit from a supportive community of friends and family. South Dakota CoR strives to foster a better understanding of our secular values with our neighbors, and to promote and defend those values in our government. No matter how you self identify, we affirm that all have the ability and responsibility to lead ethical lives of personal fulfillment that aspire to the greater good of humanity.
The Pew Research Center reports that 20% of Americans identify themselves as non-religious. This places us as one of the largest minorities in America. Although you may feel isolated in a sea of fundamentalists, you should know that there are local groups all across South Dakota that share your views, and are proud to do so!
We invite you to visit the websites of all our member organizations and hope you'll contact those that interest you. Membership is NOT required to attend events.
Come join us!