Home
The San Diego Coalition of Reason (SDCoR) is an alliance of independent organizations. The role of the coalition is to increase the visibility of each group and to more effectively reach out to freethinkers, nonbelievers, and skeptics throughout San Diego.
All SDCoR member organizations share common ground -- promoting wider acceptance of a more rational and realistic view of the universe -- but each has its own particular emphasis. Some advocate for scientific knowledge, reason, and skeptical inquiry. Some focus on the promotion of dogma-free humanist ethics, and an appreciation for human experience and culture. Others focus more on organizing social events and nurturing interpersonal relationships within the secular community.
While our collective viewpoint is secular, we share commonalities with many belief systems. We are committed to a more compassionate world; we are working for a more reasonable citizenry and a higher level of discourse; we are striving to increase the quality of life for all; and we find fellowship an integral part of a rewarding and fulfilling human experience.
The San Diego Coalition of Reason invites you to visit the websites of all our member organizations and contact those that interest you. Membership is NOT required to attend events.
Member Organizations
Americans United for Separation of Church and State - San Diego
Atheist Coalition of San Diego
East Country Heathens
Humanist Fellowship of San Diego
Kahal Am: The Humanistic Jewish Community of San Diego
LGBTQ Humanist Council San Diego
Military Association of Atheists and Freethinkers
Parenting Beyond Religion
Recovering from Religion - San Diego Meetup Group
San Diego Association for Rational Inquiry
San Diego New Atheists and Agnostics
San Diego North County Atheists and Agnostics
San Diego North County Brights
San Diego Skeptics
Secular Humanist Families of North County
Secular Student Alliance at SDSU
Secular Student Alliance at UCSD
Sunday Assembly San Diego
SDCoR on FACEBOOK
SDCoR on TWITTER
---
For more information contact:
Debbie Allen, Local Director of the SDCoR.
Are you interested in having our billboard in your neighborhood? It is certain to generate a reaction! We have a vinyl ready to hang...we just need to pay for the space lease. Donations, large or small, are always appreciated, and help with our efforts to raise the visibility and stature of the many secular groups in our area. All local efforts on behalf of SDCoR are by volunteers. To donate, please contact Debbie Allen.
We are an Amazon Affiliate. Buy anything through this link to Amazon, and we earn a percentage of the sale. Bookmark this link to use for future shopping. THANK YOU... and always, shine the light of reason!
---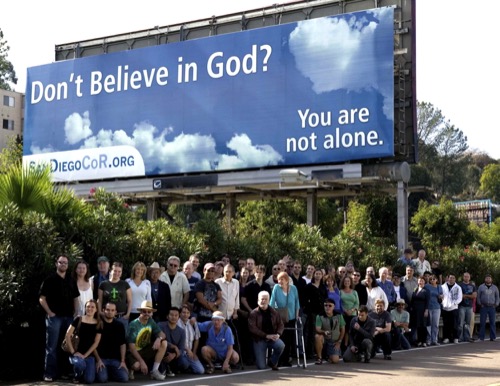 ---
David Silverman visited San Diego on February 24th. See the video of his speech: "In Defense of Firebrand Atheism"