CoRTEX Meeting Series

Omaha CoR Announces CoRTEx Meeting Series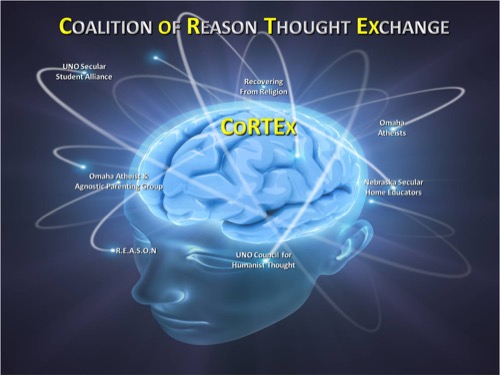 Please join us for the Omaha Coalition of Reason's series of monthly meetings known as CoRTEx, an acronym for the "Coalition of Reason Thought Exchange".
CoRTEx meetings will be held on the University of Nebraska at Omaha campus, CPACS Building, Room 101 and feature a video presentation of a talk given by a nationally recognized thought leader in the Atheist, Secular, Humanist, Skeptical or Freethought movement. The video will be followed by a joint panel & audience discussion on some of the ideas mentioned in the video. Additionally, CoRTEx will provide a central forum for the distribution of news and upcoming events of its member groups to the larger Omaha community of reason as well as updates on the status of Coalition project.
The

CoRTEx

series of montly meetings has the following goals:
1. To create a local community of reason composed of the collation's member organizations.
2. To provide our members with access to talks from nationally recognized leaders in the global community of reason.
3. To provide a forum for the free exchange of ideas.
a) To help us raise public awareness of our coalition and its member groups
b) To help us find ways to alter the negative image people have of non-theists.
c) To help us promote our shared philosophies
d) To help us attract new members to our community of reason
e) To build a strong, committed core of enthusiastic volunteers to help us implement plans designed to achieve these
Details for specific meetings, including times and dates, can be found on our events calendar. In addition to listing Coalition sponsored events the calendar also lists upcoming events for our member organizations. It's your one-stop-shop for all that's happening in the local community of reason!
---