A Reason Rally Scrapbook
On Saturday, March 24, 2012, the Reason Rally--the largest gathering in history of nontheists and those who love them--was held on the National Mall in Washington DC. The all-day event was a coalition effort involving every major organization in the community of reason in the United States. And UnitedCoR was a charter principal sponsor.
The crowd of over 25,000 reached from the stage near the Washington Monument all the way back to the to the exhibit and Camp Quest tents positioned near the Smithsonian Metro Station entrance . . .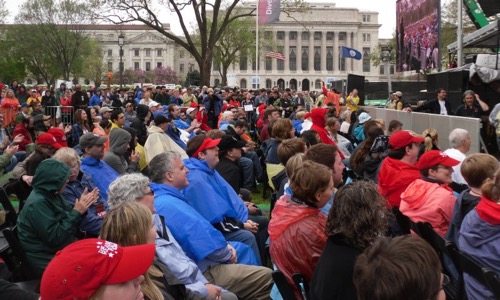 . . . and spanned nearly the entire width of the National Mall, from museum to museum, despite the rain.
| | |
| --- | --- |
| Fred Edwords, national director of UnitedCoR, spoke around 1:30 PM, leading the crowd in a roaring chant. | And was cheered on by local coalitions that came bearing banners and signs. |
| UnitedCoR also had an active exhibit in the exhibit tent. Here we see staff volunteers from San Diego CoR, Rick Stravinsky and San Diego CoR Coordinator Debbie Allen. | UnitedCoR Webmaster Joseph Stewart, UnitedCoR Board Member Jan Meshon, and UnitedCoR National Director Fred Edwords also volunteered. |
| And in front of the UnitedCoR table, volunteer Mary Murchison-Edwords found Waldo! | The Reason Rally ended with a speech by Richard Dawkins |
...and a performance by Bad Religion.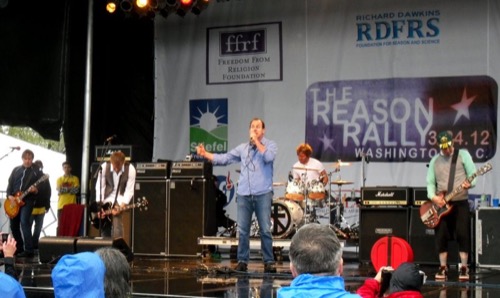 All photos courtesy of UnitedCoR staff and volunteers.